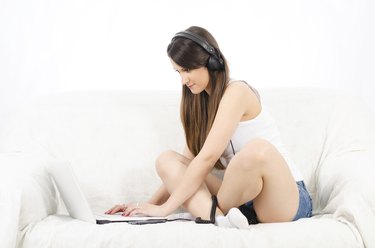 There are nearly endless options for listening to music on your Windows computer, from streaming radio apps like Spotify and Pandora to media players like iTunes and VLC. Digital technology provides another way to customize your listening through sound enhancement. Audio processors allow you to customize frequency response, enhance stereo and three-dimensional sound imaging and optimize your system for headphone listening.
DFX Audio Enhancer
DFX Audio Enhancer is a comprehensive suite of sound modifiers available in both free and commercial forms. The software enhances all personal computer audio playback, sending modified audio to your computer's sound card. Surround sound, dynamic boost, enhanced bass and high fidelity restoration are some of the features DFX offers. Purchasing DFX Plus activates several features not offered in the freeware version. DFX and all other enhancers below are compatible with up to Windows 8.1, though reinstallation may be required if you upgrade over a previous version of the software.
DPS System Wide Plug-In
Bongiovi Acoustics offers the DPS plug-in to scan audio signals and remix these in real time from any sound source on your computer. Like DFX Audio Enhancer, DPS sits in front of your audio card to capture and enhance all outbound audio. Volume differences are smoothed out and clarity improves. DPS uses profiles to optimize settings for your system, and it has a free trial version available. DPS supports only stereo output at time of publication; surround sound support is under development.
SRS Audio Essentials
SRS Audio Essentials is the freeware version of the SRS suite of sound enhancement products. Windows Media Player already incorporates TruBass and WOW from the SRS package, but if you use another program or Internet audio and video, adding SRS AE extends the sound enhancement. The freeware version supports stereo audio and does not include TruVolume, a loudness leveler.
Proprietary Sound Enhancement
The maker of your sound card may have sound enhancement software designed specifically for your card. For example, Creative Labs, makers of Sound Blaster audio equipment, provide both hardware and software sound enhancement options. Realtek supplies audio chips to a wide range of computer manufacturers with a few audio enhancers built-in, with Windows 8.1 driver support in place. You'll experience the best results with any audio device by keeping its drivers up-to-date.