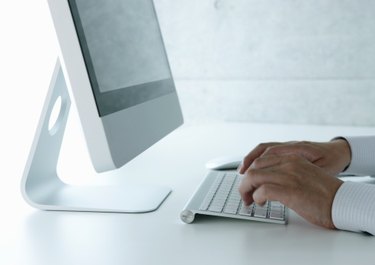 Microsoft Word is a word-processing application for Windows and Mac systems that lets you compose an array of documents, including memos, letters and even labels. The application also includes a standard menu and document view system that is standard across Microsoft Office products. The various views display the different ways your document will look on paper, a monitor and the Internet. Word's multiple view capability is a helpful tool accessible from the program's toolbar.
Web
Microsoft Word's Web view lets you see how your document will look as a website. Any embedded graphics, backgrounds and borders will appear just as the objects would appear within an Internet browser. You can still edit your Word document while in this view as well as save your document. The Web view is ideal for viewing and editing documents you plan on uploading to a Web server.
Print
Ideal when setting margins and formatting your Word document for printing to your system's or a commercial printer, the Print view displays your document exactly the way it will look when printed from your printer. This view also displays footer, header and footnote information. Your document is also editable in this view.
Outline
The Outline view adds bullets, nested levels and indented lines within your document to aid in editing, moving, copying and pasting elements within the document. This view is ideal when working with multiple-page documents such as books, manuscripts and research papers.
Normal
The Normal view, Microsoft Word's default view, is ideal when working with text and graphics that are basic or when you don't plan on outputting to a Web server or commercial printer. This view does not display header/footer and margin information, but you can edit your document in this view as well as save it.
Reading
Not available in all versions of Microsoft Word, the Reading view displays your document in a format similar to a book. This view shows two pages side by side on your monitor for viewing. You cannot edit your document in this view or save it.
Accessing the Various Views
To access the different views, click "View" on Word's main toolbar, then select the view you want to use.