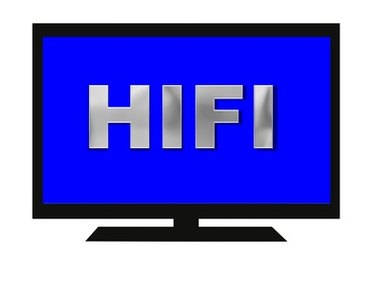 Toshiba is one of the world's largest producers of consumer electronic devices and components. LCD TVs usually have higher resolution than other TVs and the picture tends to be much sharper. However, the viewing angle on the flat screen LCD is a bit more limited. If you experience problems with your Toshiba Regza LCD TV, there are a number of troubleshooting steps to run through before calling in a service repairman.
Step 1
Check that the power cord is plugged in and then press "Power" if the TV will not turn on. The batteries in the remote control could be dead. Replace if necessary.
Step 2
Set the closed caption feature to "Off" if a black box appears on the TV screen. From the "Set up" menu highlight "TV settings" and press "OK." Press the up/down arrows to select "Closed caption settings" and then press "OK". Press the sideways buttons to select "Off."
Step 3
Hold the "Power" button on the TV control panel for five or more seconds to reset the TV if the TV stops responding to the controls.
Step 4
Press "Input" on the remote control or TV and select a valid video input source if you are having problems with the TV picture. After pressing Input, repeatedly press the up/down arrows, then press "OK" to change the input. Repeatedly pressing Input will also change the input source.
Step 5
Check that the antenna is securely connected if you are having sound problems. Try switching to another station. The current station may be having broadcast problems. Press "Volume" to check if the TV has been muted.
Step 6
Adjust the audio balance if the sound is uneven. From the "Sound" menu, highlight "Balance." Press the sideways buttons to adjust the balance to the desired setting and then press "OK."