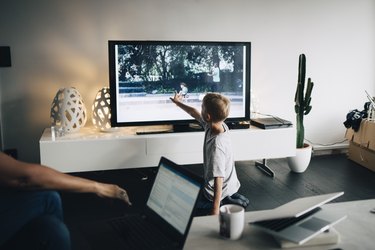 Pros: Sound bars, whether from Vizio or other manufacturers, provide much more kick and clarity than built-in TV speakers at a fraction of the cost and setup time required by high-end sound systems. Cons: Sound bars do require some additional cost and setup and, like any external sound equipment, may call for some troubleshooting from time to time.
Is your Vizio sound bar not working? As of 2018, Vizio manufactures and sells well over a dozen different sound bars, so troubleshooting procedures may vary per device. It's always best to check the original manual before attempting to problem-solve. Fortunately, though, Vizio suggests a variety of troubleshooting techniques that are nearly universal.
The Basics
If you have neither sound nor action from your sound bar, turn to the most basic of troubleshooting tactics – simply making sure the device is plugged in to power and that the sound bar (as well as the subwoofer, if your sound bar includes one) is also powered on. Likewise, press "mute" on the remote a few times to make sure that the sound bar is not muted, and turn up the volume for good measure. Once you've verified that the volume is up, ensure that the sound bar is securely plugged in to the TV by checking both ends of its RCA-to-3.5 mm audio cable (the red and white cables, which belong in the "Audio Out" input of your TV) or its digital optical cable. Unplug the cables for a bit to ensure that your TV source is actually producing sound before plugging them back in.
Still stumped? Try cycling through all of your TV's inputs and waiting five seconds on each input channel to check for audio. If possible, try connecting another external sound device to your TV to see if the problem stems from the sound bar or from the TV itself.
Subwoofers and Satellite Speakers
In some cases, you might get perfect sound from your Vizio sound bar, but nothing from the included subwoofer. When this happens, try moving the subwoofer closer to the sound bar, keeping in mind that, if it's a wireless sub, it needs a clear line of sight to the sound bar. Also ensure that the subwoofer's volume is turned up with your sound bar's remote. Try the basics here, too, like ensuring that the power is on and checking the connections.
But why is my Vizio sound bar blinking? If your sub has a slowly blinking light, it probably needs to be paired – or wirelessly connected – with the sound bar.
To pair the devices, power the subwoofer on, then press the "pairing" button on the back of the sub. Hold the button for five seconds, until the light on the device begins to blink more quickly. Now, press and hold the power button on your sound bar for five seconds (if your sound bar has a pairing button, hold that instead). This process may vary a bit per model, but the included Quickstart Guide goes into detail for each sound bar, and Vizio sound bar light codes may vary per model.
Some higher-end Vizio sound bars also include satellite speakers. In addition to checking the connections when your satellites are on the fritz, use the "Menu" button on the sound bar's remote to access the "SURND" (surround) function and make sure it's set to "on," then increase the surround volume.
Contacting the Pros
If the routine troubleshooting tips recommended by Vizio don't pan out, it may be time to call in the professionals.
You can contact Vizio's live chat support at Vizio.com, or call the company's support department by phone at 877- 698-4946 during the hours of 7 a.m. to 11 p.m. CST Monday through Friday, or 9 a.m. to 6 p.m. CST on Saturdays and Sundays.
Before calling support, it helps to have registered your sound bar when it was new at Vizio.com/product-registration, but in any case, make sure you have your sound bar's model number handy before picking up the phone.