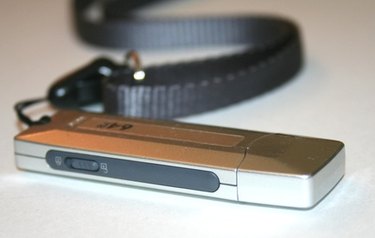 As computers have become more sophisticated, the amount of data used by the average person has increased dramatically. Instead of using computers for a few simple tasks, we expect them to store everything from our personal documents to high resolution photographs, music and HD videos. Removable storage devices that can transfer and back up data are an important part of modern computing.
External Hard Drives
External hard drives are perhaps the most useful type of external storage device for those that work with large amounts of data. An external hard drive is essentially a self-contained version of the hard drives that are installed within a computer, and can have data capacities of a similar size. This means an external hard drive can provide adequate space to copy and store all of the data on an internal hard drive. External hard drives are plugged directly into a power source and typically interface with a computer though a USB or FireWire cable.
USB Memory Drives
USB memory drives, also called flash drives, memory sticks or thumb drives, are one of the most popular forms of portable data storage. USB flash drives are only about the size of a pack of gum and have a USB plug built in to the end of the device, allowing the drive itself to plug directly into a USB port. Once the device is plugged in, it is usually automatically recognized as a mass storage device by a computer, allowing data to be quickly pulled off the device or copied over to it. While USB flash drives have far smaller storage capacities than a full external hard drive, their appeal is in their portability--it is easy to slip one in the pocket or even wear one on a key chain to have access to certain data or the ability to copy data at all times.
Memory Cards
Popular consumer devices like cellular phones and portable MP3 or video players often contain internal flash memory in the form of a memory card. According to Microsoft, common types of removable media products include Compact Flash, ATA Flash, Secure Digital (SD), and Multimedia Card (MMC). Two other types of memory cards are XD and SDHC, which are often used in digital cameras. Devices that use these types of cards can interface with a computer using a special USB cable, a USB-based memory card reader or even a memory card reader built into the computer.
CDs and DVDs
New forms of removable storage devices have largely replaced CDs and DVDs as the workhorses of data storage, but burning data to disks is still a viable way of storing data. An advantage of using CDs and DVDs is that most computers, even older ones, can read CDs or DVDs.