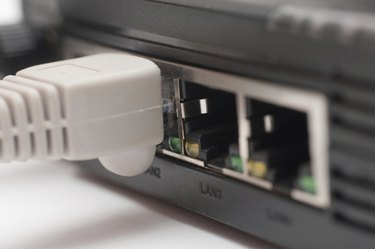 Whether you own your router or use one provided by a cable company as part of your home entertainment package, there are several signs your device could be experiencing problems. The most common problems are Internet traffic slowdowns, longer download times, frequent disconnects and poor signal strength in various locations around your home or business. You may also notice that certain router functions simply stop working.
How Old Is Your Router?
One of the most common problems with routers is age. Since routers tend to be always on, heat damage can occur over time. Heat can be a key factor in performance issues like intermittent connectivity and slower speeds, according to an article in PC World. A simple fix could be moving your router to a different location where the airflow is better, or using a fan to provide cooling. Another problem with older routers is lack of support for newer devices and higher speeds as new standards develop.
Slow Performance
If you're experiencing a slowdown in performance, there are several external issues that could be to blame. Most routers operate at 2.5 GHz, as do many other household appliances. Cordless phones, microwaves, baby monitors and even garage door remotes all function on the 2.5 GHz band. Any one of these devices could cause router performance issues, as outlined in a story on InformationWeek.com. Moving your equipment around is a quick fix method, and if that doesn't work you can change the channel your router operates on. This is done by opening your router's set-up controls in the program you installed when you connected your router the first time and changing it manually.
Go to the Lights
Your router has a series of indicator lights, usually located on the front of the device. These lights will let you know if your router is operating properly. The indicator lights will usually show functions that include power, Internet connection and Wi-Fi signal strength. A blinking light doesn't mean the device is malfunctioning, but colored lights like amber or red indicate issues that require your attention. Keeping your router manual handy is an easy way to check what the lights and colors mean. If you don't have the manual, you can check the manufacturer's website. Most companies have downloadable manuals available.
Conclusions
Routers are fairly robust devices, but like any other piece of electronic equipment they are subject to slower performance or even breakdowns over time. Many basic issues can be corrected by a simple reset; either turning the device off for 60 seconds and restarting it, or in more drastic cases resetting the device to original settings. The reset button is usually located on the back of the device. On some brands you'll need to insert a pin or other small tool into a hole on the back panel. If all of your basic troubleshooting methods don't produce the required results, it's time to get a new router. Replacing an older model can usually assure better performance and functionality.