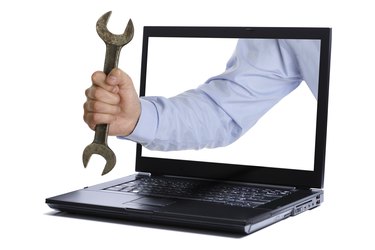 CCleaner is a utility that cleans up the files on your computer. It can remove items that are no longer needed, such as cookies from Web browsing, to free up space on your hard drive, speed up your computer and protect your privacy. The software company behind CCleaner, Piriform, offers free and premium versions for consumers and commercial business and network editions for corporate users. CCleaner works on Windows 8, 7, XP and Vista and cleans up browsers, including Internet Explorer, Firefox, Chrome, Opera and Safari. Note that CCleaner's core features delete data from your system and, if you make a mistake, you may not be able to recover your data.
Overview of CCleaner
Over time, your computer's operating system and applications create their own files and documents. Browsers generate records of your surfing history and store cookies from the websites you visit, and your system creates administration files. Even deleted files and programs leave traces on your computer. Your Recycle Bin stores deleted documents until you empty it and, if you remove a program from your system, it may leave entries and broken links in the Windows Registry. CCleaner finds these unused or unneeded files for you. If you allow CCleaner to delete them, you'll increase available disk space and optimize system performance. You can also protect your privacy by clearing tracking information and password data that is stored when you use the Internet and other applications.
Primary CCleaner Features
CCleaner has two primary cleaning features: the Cleaner and the Registry Cleaner. The Cleaner works on Web browsers, Windows and applications, clearing items such as caches, temporary files, browsing history, cookie stores, log files and deleted items in the Recycle Bin. The Registry Cleaner targets unused, incomplete or old entries in your computer's registry. In both cases, you can choose where the utility searches, allowing you to exclude data from a scan if you prefer to keep it. CCleaner also displays the results of a scan before you choose to let CCleaner run a fix.
Additional CCleaner Features
CCleaner includes other features you may find useful. For example, you can use CCleaner to uninstall or repair programs on your computer and manage the programs that run when you start your system. Its File Finder feature searches for duplicate files, and its System Restore tool shows you all the restore points that Windows has set on your computer, allowing you to remove older restore points if you wish. You can even use its Drive Wiper tool if you want to securely erase free space or a full drive.
CCleaner Costs
Piriform markets three consumer versions of CCleaner. The free program has full access to core cleaning functions. If you want to add features such as multiple-user cleaning, real-time monitoring and automatic updates, you can buy CCleaner Professional. CCleaner Professional Plus also comes with defragmentation, file recovery and analysis tools. At the time of publication, these versions cost $24.95 and $39.95. Business users can buy a standalone business edition or networked programs, both of which come with priority support. Costs for corporate users start at $34.95 for the business edition; licenses for networked programs start at $199 for up to 10 workstations.