Computer hardware servicing is a blanket term applied to the act of supporting and maintaining computer hardware. This includes diagnosing computer hardware issues, upgrading hardware on a computer and repairing computer hardware.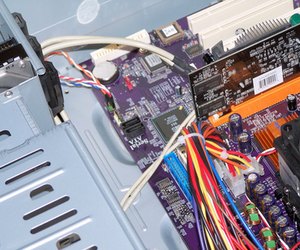 Required Education and Training
To find employment in computer hardware servicing, a prospective employee should have one of the following:
Professional Certification. CompTIA's A+ certification is a standard in the industry. - An associate's degree in a related field, such as Management Information Systems (MIS). - A bachelor's degree in a related field, such as MIS or Computer Science.
Typical Responsibilities
A professional in charge of computer hardware maintenance must be able to perform the following tasks:
Install PC hardware. - Install and update hardware drivers. - Diagnose computer hardware problems. - Maintain computer hardware.
Employment Opportunities
According to the U.S. Bureau of Labor Statistics, individuals with expertise in computer hardware servicing can expect to see the field increase by 30 percent by 2018. Much of this increase will be seen in the field of network engineering, the field size of which is projected to increase by 50 percent.