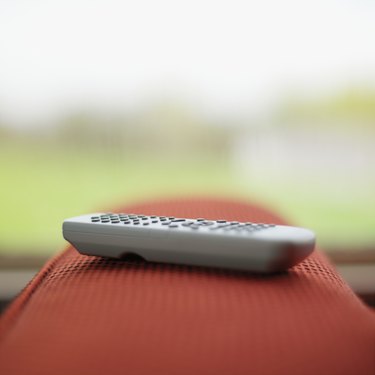 The onscreen display is a visual menu that lets you adjust your television's channel lineup, picture and audio settings, as well as parental control settings if equipped. The OSD is accessible by pressing the "Menu" or "OSD" button on your TV's remote control or front panel. The OSD component is present on modern televisions and any changes you make to the component's settings are saved when you press the "Menu" or "Exit" key.
Controls
When you first press the "Menu" or "OSD" button, a menu with various headings appears. The headings may include "Picture," "Sound," "Option" and "Setup." Other adjustments you can make to your television via the OSD menu include setting the day and time, turning the sleep timer on or off, activating the picture-in-picture mode and resetting your television to "factory settings" -- handy if you are experiencing problems with your television.
Activating Input/Output Ports
The OSD menu may also have a control for activating the input and output ports on your television, including the composite, component, S-video and/or High-Definition Multimedia Interface ports. If your television's remote control has a Line or similar-worded button, you can also activate the ports by pressing it to select the port you want. The port's name will appear on your television's screen.
Channel Selection
The OSD menu also lets you select your television's signal input, antenna or cable, and scan for available channels in your area. The signal input control also lets you manually add channels that the scan may have skipped and delete channels you don't want on your television.
Navigation
Use your remote control's up and down or "+" and "-" buttons to navigate the OSD menu and press the "Menu" or "Enter" button to select a heading or category. If you don't have a remote control for your television, press the up and down, "+" and "-" or Channel and Volume buttons on your television's front panel to navigate the OSD menu. The Menu button acts as a toggle switch for options within the OSD menu. On some televisions, the Enter button is the toggle switch for OSD selections.
Exiting
When you are finish making adjustments within the OSD menu, press the "Menu" button to exit the OSD menu. On some models, an "Exit" button exists and closes the OSD menu. If you leave the OSD menu open, it will eventually time out and close automatically on some television models.