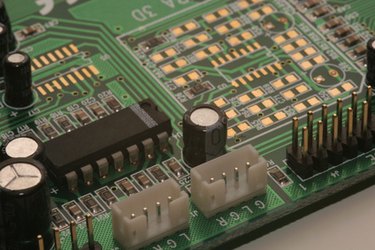 It's a good idea to back up your computer's installed drivers in case you ever need to reinstall Windows. Software tools available online can help with this task. This way, if or when you need to reinstall Windows, you can get your hardware restored and working quickly, without searching all over the Web for the appropriate driver downloads. Two such driver backup utilities are My Drivers and Driver Magician. If you changed your system configuration in some way and find yourself in the position of seeing "Simple Communications Controller" in your device manager list, there is an easy way to identify what this device actually is and get on the path to getting the right drivers.
Download Unknown Device Identifier
Launch your preferred Web browser and navigate to the My Drivers website to download the Unknown Device Identifier utility (see Resources). This useful little program is freeware, so you don't have to purchase it or worry about limitations or nag screens. Once you have it downloaded, find the location on your computer where you downloaded the installer and click it to begin the installation.
Detection and Options
The utility will automatically detect all devices in your system when it starts up. Look through the list and find the "PCI Simple Communications Controller" and right-click it for options. The "Find Driver" option will open up your Web browser and search the driver. "Contact Vendor" will go to the device manufacturer's home page, where you'll have the option of getting support and software for your device.
Likely Devices and Visual Inspection
A "PCI Simple Communications Controller" is usually a PCI modem, but it can be other, sometimes unlikely devices, such as an audio or serial device. If the Unknown Device Driver utility doesn't work for some reason, you may want to open up your computer's case and snoop around the PCI slots to get further clues to help you identify your PCI device. If you don't feel comfortable opening your computer's case, get your local computer guru to help you do this. Remind him to follow electrostatic discharge procedures to protect your computer from damage when the case is open.