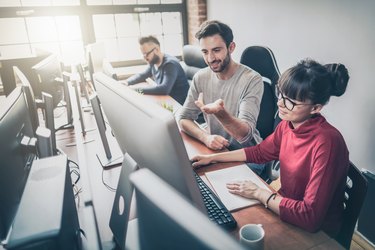 As a business grows, managing operations becomes more complicated. You need to issue paychecks, manage benefits, pay your bills and track your budget, all while also trying to maintain customer relationships and add new clients. Software can help you keep up with it all, even automating many daily tasks that were previously handled by employees. Enterprise resource planning solutions are at the heart of this automation. You'll sometimes hear the terms SAP and ERP used interchangeably. SAP is a software company, while ERP, an acronym for enterprise resource planning, is one of many solutions SAP provides. SAP ERP tools are considered among the best in the field, but there are plenty of other top industry players.
What Is ERP?
Enterprise resource planning software is an all-in-one tool that a business uses to manage all of its human resources, purchasing, bill payment, accounting and manufacturing processes. The backbone of every good ERP platform is its database, which helps businesses collect essential information on employees and clients. All of this feeds the various features to aid professionals in managing daily operations. SAP is such a recognized name in ERP software, the company name has become synonymous with ERP, but SAP is only one of many providers in the ERP solutions space.
What Is SAP?
Although SAP ERP is now available as cloud software, the company has been offering on-premise ERP solutions for decades. The company now offers separate ERP solutions to fit various business needs, from packages for small businesses to finance-specific ERP packages. SAP has many competitors, and Oracle is at the top of the list, with some businesses preferring one company's ERP over the other. Although there are many similarities, the SAP vs. Oracle debate focuses on the advanced financial capabilities found in Oracle's solutions, while SAP is applauded for its HR functionality.
SAP Vs. Oracle
Even with so many competitors, often it comes down to SAP vs. Oracle for businesses choosing an ERP solution. Like SAP ERP, Oracle ERP offers a full suite of solutions to help businesses do everything they need to do in one centralized location. Oracle emphasizes the finance and accounting side of things, while SAP specializes in HR functions like time and attendance management. Both solutions can handle the full range of ERP for a business, but SAP customers may find they need to upgrade to one of the company's financial-oriented solutions to get the accounting features they'd have with Oracle. Likewise, Oracle has specialized solutions like its HR Talent Management platform that can handle HR weaknesses.