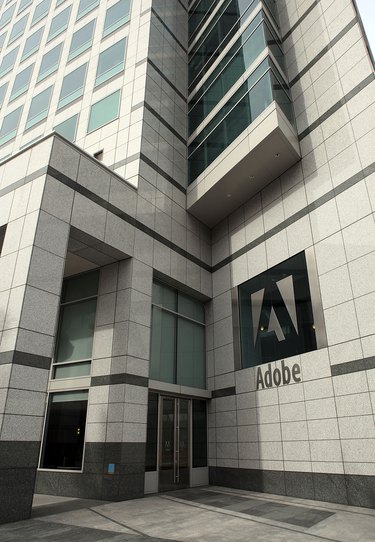 In 2010, the average American spent 32 hours a month on the Internet, according to the comScore Data Mine. As you surf the Web, you may notice some sites prevent you from accessing certain content until you download or install a specific component. The Adobe Flash plugin and ActiveX control are two commonly needed tools on the Internet that let you do things like watch videos and open files. While Adobe's Flash plugin and ActiveX can work together in some capacity, they are essentially different products.
ActiveX Purpose and Use
Microsoft's ActiveX controls are made up of small program building blocks attached to applications. A control helps you execute the application successfully over the Internet. An ActiveX control can be used to show graphics, videos and data. The main benefit of using an ActiveX control is faster download speeds. The tool breaks up the file into numerous pieces and downloads each piece individually, but concurrently. It also ensures that if you stop or lose your download, you can return to it without losing any pieces that have already been downloaded.
Adobe Flash Plugin Purpose and Use
The Adobe Flash Player is a cross-platform plugin designed to allow you to view graphics, video and text over a Web browser. Specifically, the Flash Player supports content created and saved in Adobe's SWF file format. To enable the Adobe Flash Player to work in your computer, tablet or smartphone browser; you need to first install the application or plugin. Adobe's Flash Player can work in conjunction with ActiveX controls to some degree. The Adobe Flash Player ActiveX control can be used by developers who want to ensure support for SWF content in Internet Explorer.
ActiveX Compatibility
As a Microsoft tool, ActiveX largely works with Internet Explorer only. ActiveX controls are generally implemented to work with Microsoft products like Microsoft Office and Windows Media Player. They can, however, be written in a variety of programming languages like C++, Visual Basic, ASP, Java and PHP. The downside of this is that ActiveX controls can be programmed for all sorts of intents and purposes, including launching viruses and other malware.
Adobe Flash Plugin Compatibility
Unlike ActiveX controls, Adobe's Flash Player plugin can be used with many browsers including those running on Windows, Macintosh, Linux and Unix-based operating systems. The Flash Player plugin is also compatible with the browsers running on the Android mobile operating system as well as BlackBerry tablets. The plugin will enable you to see and hear SWF or Flash content only and will not work for other types of file formats. The Apple iPad does not support the Flash player.