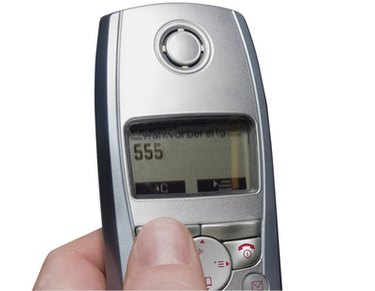 MagicJack is a device that plugs into a USB port on your computer. Connect a telephone to the device and now you can place and receive calls. MagicJack features include directory service, a phone number, call waiting, caller ID and a voicemail service. When choosing a phone that will work great with MagicJack, it is important to consider how and where you will be using the calling device.
Panasonic – DECT 6.0 Expandable Cordless Phone System
This phone comes with three different handsets, which makes it a great phone for a home. You plug the main phone base into the MagicJack, and then the other handsets can be placed in other rooms. Each handset has a keypad that is backlit and a large LCD screen for ease of use. A belt clip is included so you can carry the handset from room to room. The phone features a base with three handsets; you can add up to three more. It uses DECT 6.0 technology meaning that there is low interference as well as range enhancement. Caller ID, speed dial spaces for 50 names and numbers and a redial function are some of the features. You can put the phone on silent at night so you are not disturbed. It has a function for three-way conferencing and is wall mountable. This phone is energy efficient.
AT&T – TR1909 Trimline Corded Telephone
A simple and great phone to use with the MagicJack is the AT&T TR1909 corded phone. It has a slim and attractive design that will look nice on a desk or hung on the wall. This phone will work without power, making it a great choice for laptop users with a wireless connect card. It is compact in size to fit into a suitcase if you plan on traveling with your MagicJack. The phone will store the 50 most recently made calls for easy access. Other features include caller ID, call waiting, mute and a volume control.
Vtech DECT 6.0 Cordless Phone With Caller ID - 1 Handset
The Vtech DECT 6.0 cordless phone is ideal when multiple phones are not needed. With its clear reception, security and range you are free to roam to other rooms of the house or apartment. A handy feature of this phone is the handset speakerphone; which allows you to talk hands-free. Other features include a phonebook directory that can store up to 50 names and numbers, any key answer, backlit keypad and a large display. You can expand upon this phone by adding up to 12 additional handsets while using only one phone jack on the MagicJack.