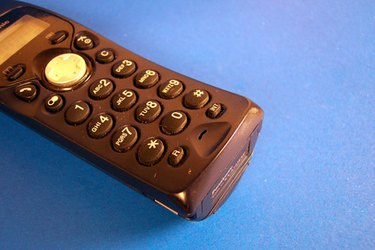 Panasonic cordless phones are durable phones that let you communicate wirelessly with your friends, members of your family who live near and far, your coworkers and your boss. Get familiar with all the features that the Panasonic cordless phone system gives you so that you can effortlessly make calls, track who called you with the caller identification, record a greeting on your phone and listen to voice mail messages.
Step 1
Install the cordless phone batteries into all of the handsets that come with your Panasonic cordless phones. Slide off the back cover of the phone and insert the battery. Replace the cover over the battery and close it tight.
Step 2
Plug each of the cordless phone bases into the electrical wall plug. Position the phone bases throughout the house so that you can quickly reach a cordless phone when you need to. Give the phones time to charge before you start using them.
Step 3
Connect the main phone base to whatever you use as a phone service. Some phone services use wall phone jacks, while others are connected via the cable modem. Consult your local phone service to see which one they use and then connect one end of the phone cord to the main phone base, and the other to the wall or cable modem.
Step 4
Answer the Panasonic cordless phone by picking the phone up off the charger. If the phone is already off the charger press the "Talk" button to answer the phone.
Step 5
Call someone by pressing the "Talk" button on your Panasonic phone and dialing their phone number.
Step 6
Press on the "Hold" button to switch between calls when you are on the phone if you have call waiting. Once someone is on "Hold" Press the "Talk" button again to talk on the other line. The "Hold" button also allows you to mute the conversation for a moment if you need to talk to someone in the same room without the person on the phone overhearing you.
Step 7
Adjust the volume on your Panasonic cordless phone. Press the button marked "Vol" then press the up or down buttons. The Panasonic cordless phone has a high and a low ring, and you can turn off the ringer.