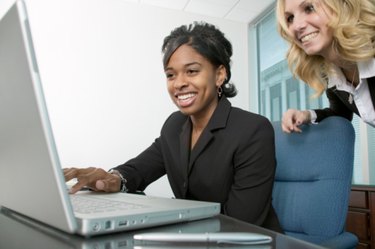 Most YouTube videos are uploaded for the enjoyment of users all over the world. However, it is difficult to enjoy the experience if the video keeps starting and stopping. The longer the video, the more data your computer needs to download. It is normal for an online video to buffer just before it begins, but it should not stop during playback unless you are watching a private video or have a Flash or bandwidth issue.
Private Videos
Some videos are marked as private and will stop playing if you are not on the uploader's Friends and Family list. Try viewing a different video to see if it is an isolated issue. If you are certain the video is not private, your firewall could be blocking YouTube. Try viewing it from a different network, if possible. If all else fails, empty your browser's cache and clear the cookies before trying again. Go to "Tools," "Delete Browsing History" and place a check by each option except "Preserve Favorites Website Data."
Internet Speed
When videos do not play continuously, it is likely due to a slow Internet connection. Your Internet needs to be fast enough to download the video faster than your computer plays it. If it is slow, YouTube will keep stopping to buffer, or pre-download the video. At least 500 or more Kbps is recommended to prevent this from happening. In the meantime, you can pause the video, giving the stream time to load.
Bandwidth
Your bandwidth is determined by your Internet speed, and it is the maximum amount available for use. If you are on a network, the total bandwidth will be shared among all computers connected to the network. If you are using any programs that utilize the Internet, they will also suck up bandwidth that could be used by YouTube. Do not use the Internet until the YouTube video has fully loaded.
Flash
All YouTube videos use the Adobe Flash Player. If you have trouble with all of the videos, install the latest version of the player. You may also see the following message: "You Need to Upgrade Your Adobe Flash Player to Watch this Video." It is a good idea to uninstall previous versions of Flash, and, if you are unsure, just use Adobe's official uninstaller. If updating Flash does not fix the problem, disable your popup blocker from "Internet Options," "Privacy."