ITunes synchronization issues can point to a number of problems. Most of the time, a simple reboot or another try at syncing fixes the error, but if your troubles persist, try reinstalling iTunes or restoring your iPhone.
Ineffective Syncing
If your iPhone looks like it's syncing, but some or all of the files fail to transfer, double check your sync options and click Sync (or Apply) again. Sometimes, iTunes catches additional content to sync on the second try. If a particular type of media is problematic -- such as if your progress in listening to podcasts or watching TV shows doesn't sync -- remove them from the phone entirely and sync from scratch. To do so, open the iPhone settings in iTunes and uncheck the sync option in question, such as Sync Podcasts, and click Remove. Click Apply and wait for the sync to finish. After it does, recheck the option and click Apply again.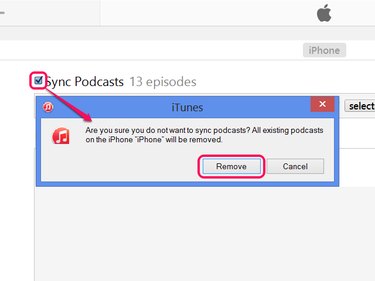 One-Way Syncing
Not all data transfers in both directions when you sync your iPhone with iTunes. For example, new apps and app updates that you download on your phone do not transfer back to iTunes when you sync. This problem isn't actually a syncing error; iTunes used to transfer these downloads during a sync, but as of iTunes 12, you need to transfer them manually. To do so, open the File menu -- press Ctrl-B if you don't see the menu bar -- point to Devices and choose Transfer Purchases From iPhone.
IPhone Not Detected
If iTunes can't even see your iPhone, you either have a hardware issue -- most likely a broken USB cable -- or a problem with iTunes. Apple offers a long list of troubleshooting steps for this problem, but the basic solution boils down a few steps:
Step 2
Reconnect the iPhone to your computer and try iTunes again.
Step 3
If iTunes still doesn't see your phone, close iTunes and uninstall the program with the Programs and Features Control Panel. Apple recommends removing all related components when you uninstall iTunes. In order, uninstall iTunes, Apple Software Update, Apple Mobile Device Support, Bonjour and finally Apple Application Support. Reboot your computer again, and then download and install the latest version of iTunes.
Tip
Uninstalling iTunes won't erase your media library.
Restore Your iPhone
As a last resort before taking your phone to Apple for repair, try restoring it. Usually, you can click Restore iPhone on the Summary tab in iTunes, but if iTunes won't recognize your phone, you have two other options.
Warning
Restoring your iPhone erases its data. You will lose everything new or updated on your phone since its last backup.
Reset in Settings App
Open the Settings app on your phone and tap General, Reset and then Erase All Content and Settings. This option resets your phone to like-new conditions, after which it offers the option of restoring a backup from iTunes or iCloud.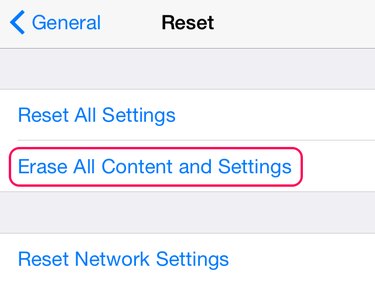 Recovery Mode
Even if your phone won't turn on properly, iTunes can usually restore it if you use recovery mode. Turn your phone off, unplug it from your computer and quit iTunes. Hold down the Home button and reconnect the USB cable. Continue holding Home until the iTunes logo appears on the phone's screen, and then release the button. Open iTunes, if it doesn't open automatically, and you'll see an alert about the phone being in recovery mode. Click OK, and then click Restore iPhone.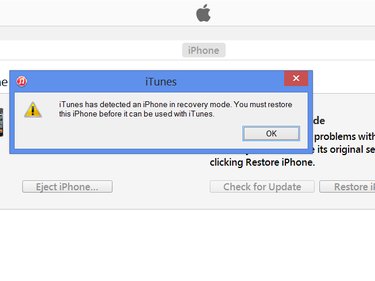 Tip
Device Firmware Update mode might help if iTunes doesn't detect your phone in the normal recovery mode. To enter DFU mode, turn the phone off while leaving it plugged in. Press both Home and Sleep/Wake at the same time, and hold both for 10 seconds. Let go of Sleep/Wake, but keep holding Home until iTunes detects the phone. If you time it correctly, your phone's screen will light up but not display any image. If an image appears, turn the phone off and try again.