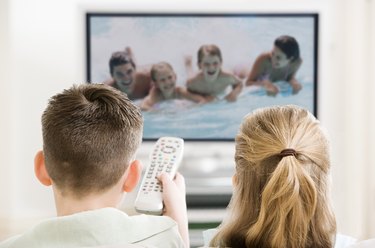 Charter offers DVR service to its cable TV customers. Subscribers who sign up for DVR service can use either a Motorola or Scientific Atlanta DVR. Charter provides these DVR receivers to customers for a monthly rental fee. Once installed, you should be able to record live TV, saving and deleting files to your queue. Everything from user error to receiver issues to your personal viewing preferences could prevent you from deleting old recordings.
Deleting Old Recordings
The steps to delete an old recording are the same whether you use a Motorola or Scientific Atlanta DVR. Select "DVR" from the main menu on your programming guide or choose "List" from your remote to find your list of previously recorded shows. Using the up and down buttons on your Charter remote, highlight the program you want to delete and press the "X" button next to the program to erase it from your system. Once you delete a show, you won't be able to retrieve it. Both brands of Charter DVRs record up to 100 hours of digital TV, 43 hours of analog programming, 21 hours of HD or any combination of the above. Once you reach your limit, you'll have to delete old recordings to make room for new ones.
Protected Programming
Both the Motorola and Scientific Atlanta DVRs have separate features that protect your programming from being viewed by individuals who do not have a PIN. On the Motorola DVR, the block button -- which looks like a closed padlock -- is inside the Recorded Program menu. By clicking on this icon, you can block anyone who doesn't know your four-digit account PIN from watching or deleting the program, although they will be able to see the program itself inside the Recorded Program menu. On the Scientific Atlanta DVR, select "Recorded Program Options" from the "Recorded List" menu, highlight "Block" and press "Select." You'll be prompted to enter your four-digit PIN. Once the block is in place, a locked lock will appear next to the program name. For both DVRs, you'll have to enter your PIN to access the program in any way, whether to watch it or delete it.
Reset Your Box
If you are unable to delete a program from your DVR, an issue within your DVR receiver may be to blame. These set-top boxes receive updates from Charter regarding programming and software upgrades. If your DVR doesn't receive this information, or the data it receives is corrupted, resetting it will automatically force it to scan for fixes. Reset your DVR receiver by turning it off and unplugging it from its power source for at least 15 seconds before plugging it back in and trying again to delete the program.
Remote Control Issues
Your DVR remote control from Charter has a lot of buttons. You could have pressed the wrong button while attempting to delete a recording. Your remote could be to blame in other ways, as well. If the battery in the remote is dying, the signal between it and your DVR may be too weak to process your request. Try changing the batteries in your remote before processing your request a second time.
Contact The Company
If you've tried troubleshooting the problem by examining your blocked program settings, resetting your DVR box and changing the batteries in your remote, you could have a defective receiver. Contact Charter's customer service line at 1-888-438-2427 to talk with a service representative. She may reset your box a second time while simultaneously sending updates to your receiver. If that doesn't work, she'll likely schedule a service appointment with a Charter technician.