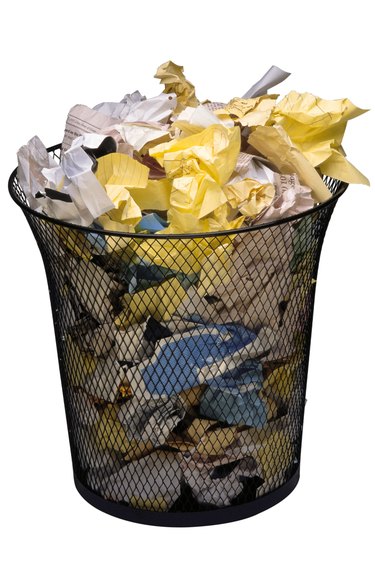 Gmail offers one of the most popular Web-based email services. However, your account in this service uses Google's servers, which means the preservation of your data depends on Google's policies. Generally, Google will not delete your Gmail messages on its own except in special circumstances. Hackers can delete your messages if they compromise your account, however, and you, of course, may delete your messages at any time. Whenever you, Google, or anyone else deletes one of your messages beware that you cannot recover it. It is gone forever.
Permanent Email
So long as you keep your Gmail account in good standing and log into it regularly, Google will never delete your email -- including sent messages. The only exceptions are your Trash and Spam bins, which Google regularly empties. Be careful with your email management, however. In order to conserve space, Google uses a labeling system rather than folders, which means that no matter how many different labels you put onto a message, you will only have one actual copy of that message. If you delete that copy, you delete it everywhere. To manage a message's labels don't delete the message but rather change or delete the labels themselves.
Reaching Your Account Limit
If your Gmail account fills up -- which amounts to about 10 GB of storage as of May 2013 -- Google will return any subsequent incoming messages back to their senders. It won't delete your existing messages, however. They will remain safe, although you will have to delete some of them in order to start receiving new email again. Note that Google counts the messages in your Trash and Spam bins toward your storage limit, so you might be able to free up a little extra space in your account by emptying these bins.
Inactive Accounts
According to Gmail's Terms of Service, Google reserves the right to delete your account if you do not log into it for nine months or longer. If this happens, Google will permanently delete your emails and anything else stored on the account. You will not be able to retrieve any of it. You will also not be able to reuse that email address.
Backing Up Email
As a business owner, you should keep a local copy of all incoming and outgoing email to protect your economic and legal interests. This protects against data loss if hackers compromise your account, due to a deleted inactive account or due to accidental message deletion on your part. The easiest way to do this is to use Internet Message Access Protocol to export your Gmail to a local email client like Mozilla Thunderbird, Pegasus Mail, IBM Lotus Notes or Microsoft Outlook. After installing your local email client, go to Gmail's settings and select the "Forwarding and POP/IMAP" tab. From there, enable IMAP and follow Google's instructions for configuring your client.
Gmail Backups
Once you permanently delete a message in Gmail, you cannot retrieve it again, but technically it sticks around in Google's system for a little while longer. According to its stated policy, Google creates regular backups of your emails as a precaution in the event of data loss on individual servers. Because of this, Google advises that it may take up to 60 days to permanently delete your email from Gmail's active servers, and "an additional period of time" to delete it from Gmail's backup servers.