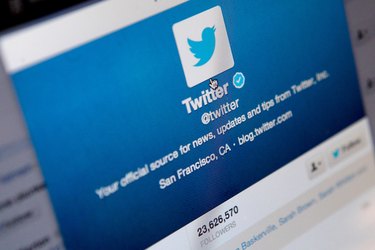 Each verified Twitter account features a blue verified badge icon that contains a check mark, which signifies to the Internet community the authenticity of the account. To make it easy for users to locate the actual accounts they are looking for, Twitter itself verifies accounts on an ongoing basis to identify high-profile users in fields such as acting, music, entertainment, government, politics, religion, media and business. Although Twitter does not accept requests from the general public for account verification, users can increase their likelihood of ultimately receiving verification by following Twitter's advice on account authenticity.
Step 1
Create a Twitter account. If you are not already registered on Twitter, sign up for a free account and complete your profile. Select a username and adjust the profile settings according to your preferences, uploading a photo and header as well as filling out the fields for name, location, website and bio.
Step 2
Link to your Twitter profile from an official website. Twitter asserts that this is the easiest way to confirm that your Twitter account is authentic. On your official business or professional site, feature your Twitter username and include a hyperlink directing site visitors directly to your Twitter profile page.
Step 3
Add a Follow button to your official website. Visit the Twitter Resources section, and click "Buttons." Select "Follow" as the type and customize the button options based on your desires. View the preview to verify your selections, then copy and paste the accompanying HTML code onto your website.
Step 4
Use Twitter. Twitter suggests that if you think you meet the site's qualifications for verification, you should be patient and continue to use Twitter in a meaningfully way. Twitter has an ongoing process for reviewing accounts and the site may contact you in the future. You should compose new tweets, and reply to tweets from other users. You can also retweet and favorite the posts you find and like the most.