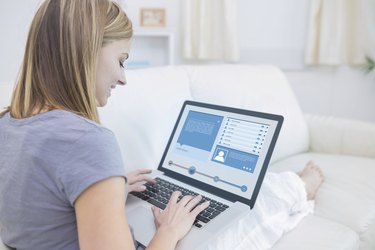 Identifying real celebrity accounts on Facebook can pose a challenge. Although many celebrities use the site to stay connected to family, friends and fans, a lot of accounts registered to the names of celebrities are fake and created by fans, stalkers, hackers and spammers. Facebook offers a tool to help you immediately identify some real celebrity accounts. To find others, you must search for clues that confirm account authenticity.
Facebook Verification
Although a real celebrity account often has a lot of "likes," a high number isn't a guarantee. Facebook researches profiles and fan pages that have a large number of followers and then tags confirmed accounts with a verification icon -- a blue circle labeled with a white check mark -- so fans don't have to guess. The icon appears on an account's cover photo to the right of the celebrity's name. It also appears anywhere else on the site that links back to the account, such as in search bar results and on account thumbnails that pop up when you roll a cursor over a Facebook user's name.
About Details
As small and new celebrity accounts don't usually receive a verification icon, the next best way to spot a real account is by checking the About screen. Celebrities often list detailed information about themselves, such as work titles, academic accomplishments and professional awards, and offer self-written messages to fans. On a personal account, you might also find a link to a fan page and a note explaining that profile access is only approved for relatives and close friends. Another clue is the types of links added to the About screen. Celebrities typically add links to official websites and verified social network accounts.
Post Content
Because celebrities talk about their interests, work, family and friends, and often post personal photos and videos, post content usually reveals if an account is fake or real. If you're uncertain, fact check specific details against information in news articles about a celebrity. Since many celebrities have to be careful about how they appear online to protect their image, a real account is less likely to have a lot of spelling and grammar errors. Additionally, unless a celebrity is known for using harsh language, posts won't usually contain cursing or strong opinions. In fact, a real celebrity account is more likely to feature an apology to fans about past or recent off-color comments or poor behavior.
External Methods
If you're having difficulty spotting real celebrity accounts on Facebook, or you're trying to confirm that a specific celebrity has a Facebook account, consider looking for clues outside of the site. Celebrities who use Facebook typically link to their Facebook profiles and fan pages from their official websites and social media accounts. If celebrities have representation, their agents sometimes include links to their social networking accounts on their biography pages. If these methods don't work, consider asking for help on fan sites.
Fake Accounts
Fake accounts aren't merely an annoyance. Criminals often use them to convince fans to click links to phishing sites designed to steal personal information, or online stores designed to sell knockoff products that aren't officially endorsed by a celebrity. When you spot a fake account on Facebook, report it immediately. Click the button marked with three dots next to the Messages button on the account's cover photo, select "Report" or "Report Page" and then follow the instructions.