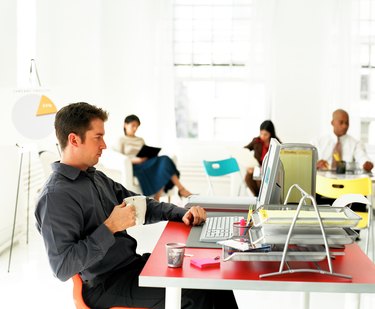 If you're removing a Logitech device from your computer, you should remove the drivers that powered the device. Old drivers may clutter your computer and even slow your performance. Another problem with leaving old drivers on a computer is that they can affect the installation of new hardware. If you're changing your employees over from Logitech mice, for example, the old mouse drivers should be uninstalled so they don't compete with the new mouse drivers.
Step 1
Hover the mouse over the lower left corner of the desktop. When the start menu appears, right-click to show the context menu and click on "Programs and Features."
Step 2
Find the driver in the list of installed programs and click "Uninstall" to remove it. Follow the prompts to remove it completely.
Step 3
On the home screen, type "Device Manager" and click "Device Manager" when it appears.
Step 4
Expand the list that shows the device type of the driver you're uninstalling. For example, a Logitech keyboard would show up under keyboards. If the Logitech device still appears, right-click it and choose "Uninstall."
Step 5
Follow the prompts to completely remove the hardware drivers from your system.