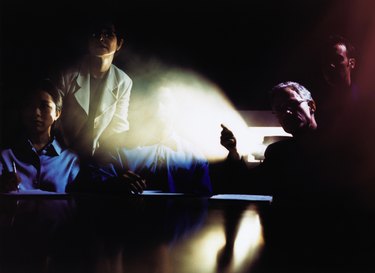 While projectors in business settings typically get used for projecting presentation slides, spreadsheets and the like, they are usually capable of projecting movies as well. Whether you need to show a corporate sales video, inspire your team with an uplifting film or just want to bring some popcorn into the office and let everyone blow off steam with a blockbuster, it's easy to show movies with your existing projection setup. All that you need is a computer with a DVD drive, a projector and an audio system.
Step 1
Dim the lights and close the blinds on outside-facing windows. Even if your projector can handle ambient light when you are projecting data, many movies have dark scenes that will be much easier to see in a darker room.
Step 2
Connect a computer with a DVD drive to the projector using either a High Definition Multimedia Interface or a Video Graphics Adapter cable. Either connection will send the video data to the projector, with the HDMI cable having the added benefit of also sending audio data if your projector has a built-in speaker that you plan to use.
Step 3
Turn on the projector and computer by pressing their respective "Power" buttons. Wait for the computer to boot up and wait for the projector to warm up.
Step 4
Press the projector's "Input" or "Source" button to select the input to which your computer is connected. Typically, the VGA input will be labeled "VGA," "Computer" or "Data," and the HDMI input will be labeled "HDMI." If your projector has multiple HDMI inputs, they will usually be labeled with numbers.
Step 5
Set your computer to output an image to the projector if its desktop does not appear on the projection screen. While desktops do this by default, laptops frequently require you to press a special key combination to turn on their video ports. The combination varies from manufacturer to manufacturer, but you typically use the "Fn" or "Function" key and one of the numbered "F-Keys" located above the row of numbers at the top of your keyboard. Look for the "F-Key" that says "CRT/LCD" or has a picture of a monitor or of a computer superimposed over a monitor.
Step 6
Connect your audio system if you are not using the speakers built into your HDMI-connected projector. To connect your computer to your projector's audio input if you are using a VGA cable, run an audio cable with two male 3.5 mm plugs between the "Line Out" or "Headphone" jack on your computer and the audio input on your projector. Alternately, connect the 3.5 mm plug from a set of computer speakers to your computer's "Line Out" or "Headphone" jack. If you have an audio system that has a pair of phono plug audio inputs, use an audio line-in cable that has a 3.5 mm plug on one end and two phono plugs on the other end, plugging the 3.5 mm plug into your computer and the phono plugs into the corresponding audio inputs.
Step 7
Turn your computer's volume almost all of the way up.
Step 8
Turn your audio system on and turn its volume almost all of the way down.
Step 9
Open your computer's DVD drive by pressing the button on its panel. Insert your DVD into the drive with its label side up. Close the drive by pushing in the drawer.
Step 10
Follow the prompts on your screen to load the DVD player software built into your computer.
Step 11
Turn on your DVD player's "Full Screen" mode. While the method to do this varies from player to player, you usually right-click on the screen and select it from the pop-up menu.
Step 12
Select the Play Movie option from the DVD menu and turn up your audio device until everyone can hear the movie.