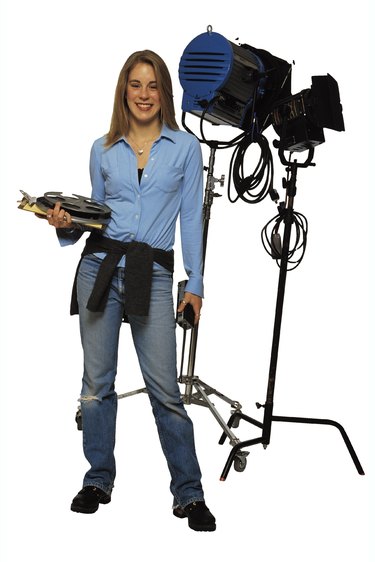 Modern movies are rarely produced without computer effects. Special effects programs allow filmmakers to adjust the style of a movie, or even create entire scenes and characters. Most of the software used in Hollywood blockbusters is also available to the general public. Use one of these programs to create special effects for your business projects and make them stand out from the crowd.
Adobe After Effects
Adobe After Effects is a professional program for creating visual effects. This software has been used in many big-budget Hollywood movies, such as "The Avengers" by Marvel Studios. One of the most common uses of After Effects is digital compositing. This allows you to combine several elements, such as a computer-generator background and a live actor.
Another feature of Adobe After Effects is motion tracking, which tracks a specific point on the screen even if it is moving quickly. You can digitally stabilize motion if it is shaky, or set a special effect to automatically follow an object.
Autodesk 3ds Max
Autodesk 3ds Max is used for creating computer models and rendering computer-generated effects. This program can create realistic three-dimensional objects or buildings. Filmmakers often use 3D elements to create a scene that is too difficult to film in real life. For instance, artists may use 3ds Max to render a digital car driving off of a building. This software is also capable of creating entire 3D movies, such as "Planet 51" by Ilion Animation.
Boris FX Continuum Complete
Boris FX is a set of plugins you can use to improve the appearance of video. The software suite contains many effects, such as lens flares and color filters. These allow you to adjust the style of your movie after you've film it. Boris FX can also morph between two parts of a video. This feature is useful for science fiction or fantasy effects, such as morphing a human into an alien character. The Boris FX software suite is used by many major production companies, including Showtime Networks and NBC Universal.
Autodesk Maya
The Autodesk Maya program is specifically designed to model and animate computer characters. Like 3ds Max, the software can render images that are not possible to film with live action. While 3ds Max is generally used for objects, Maya can create three-dimensional creatures and people. Many films use Autodesk Maya for character animation. One popular example is the blockbuster hit "Avatar," directed by James Cameron.