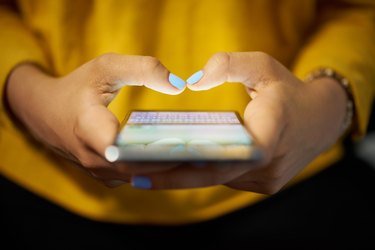 If it seems to you like new iPhone features are constantly being discovered, you're not alone. We feel that way too, and it's because that's exactly what's happening. The iPhone has so many tricks up its sleeve, and it would apparently be too overwhelming for us to learn about every single feature all at once.
Which is why we're totally fine with uncovering the features slowly and efficiently.
There's a secret iPhone feature we just found out about that is being used as as tool for people with visual disabilities — a Magnifier! The Magnifier was rolled out with Apple's iOS 10 update back in September. It was designed as a visual aid for people who need it, and it works just like a magnifying glass would.
Here's how to find it
Go to Settings > General > Accessibility. Click on "Magnifier" and switch it on. Once it's in the on position, you can access it by clicking the Home button three times. To exit, simply click on the Home button again.
The Magnifier has many different functions to help with visibility: You can zoom in and out on objects, change brightness and change the color of the filter to white/blue, red/black and yellow/blue.
Of course, the feature can be used by anyone for zooming in on whatever you'd like to zoom in on. But it's another fantastic and huge step Apple has taken to ensure the iPhone is inclusive and accessible for people with disabilities.