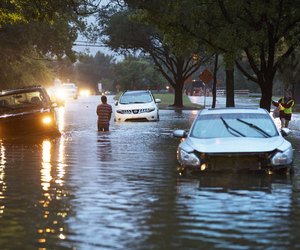 credit: Erich Schlegel/Getty Images News/GettyImages
Over the weekend, Hurricane Harvey made landfall in Texas as a Category 4 storm. It wreaked havoc throughout towns in southeast Texas, causing fatalities and numerous injuries. Harvey is now a tropical storm, and historic levels of rainfall continue to flood the Houston area, devastating the nation's fourth-largest city.
The National Weather Service says flooding isn't expected to slow down until Wednesday or Thursday.
"We are not out of the woods yet," Elaine Duke, Acting Secretary of the Department of Homeland Security, said at a Monday morning briefing. "Harvey is still a dangerous and historic storm."
The Federal Emergency Management Agency (FEMA) and other relief agencies are already helping with evacuations and rescue efforts in Texas, but if you want to help, many non profit organizations are taking to Twitter to let you know what you can do.
Here are some reliable organizations you can donate to:
Texas Diaper Bank is also requesting donations:
In addition, Facebook has activated its Safety Check system for the area, which not only lets you search for a loved one in the affected area, but also lets you respond to people who need help.
More than 840 people have posted their requests for help on the page — requesting, food, rides, and volunteers for clean-up crews. People are also using the page to offer their services.