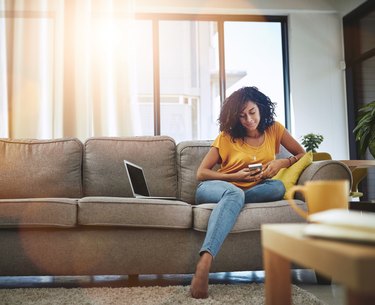 Global Tel Link (GTL) is a telecommunications services company that specializes in providing communication solutions to correctional facilities across the country. Its communication technology lets inmates connect with friends and family members through telephone, video and messaging systems. The services provided by GTL offer a convenient way for inmates to communicate with loved ones and also allows the facility to maintain the safety and control of its operations. There is a fee for GTL service and an inmate's outside contacts must create GTL accounts and deposit money to utilize the services.
Ways to Pay Global Tel
You can pay a GTL inmate phone either online or over the phone, although there are also other options, such as at a kiosk in the facility's visitation area. It's a good idea to check the inmate balance or get your loved one to check prior to adding funds, because the AdvancePay system used means that charges for calls are deducted from the account balance. If you have enough funds in the account, you might not need to make another payment yet.
Online Payments
Global Tel Link payments can be made online at the Connect Network website. To set up an online account, you must:
Click "Create My Account," then "Sign Up Now"

Accept the site's Terms of Use
Complete the "Account Settings" page by creating a username and password and entering your personal contact information.
Add the correctional facility where your loved one is housed. (GTL does not service all facilities. If you do not see the facility you are looking for, chances are it is not a part of the GTL network and you cannot use this system to fund an account).
Verify that your personal information and the facility location are correct and then confirm the account set up by pressing "Submit."
Once the account is set up you can make payments to the account. Use your username and password to sign in. The account home page defaults to the account summary screen, which gives you options to manage activity and make payments. Click the "Make a Payment" link and choose the phone number and facility you'd like to apply the payment.
The next page will ask for a credit card and the amount you want to apply. Global Tel Link only accepts Visa, MasterCard and Discover Card payments and you must include the account security code to continue. Finally, you must verify the amount and submit your payment. A confirmation screen will appear and your payment is complete.
Payments by Phone
Phone payments can be made through the GTL automated system by calling 1-800-483-8314. The automated system will recognize the phone number you're calling from and ask if that is the number you would like to apply a payment. Payment amounts range from $25 to $100 as of publication, and can be applied in increments of $25.
If you do not have an online account, or if it is your first time calling the automated system, you can create a new account by phone by entering the telephone number you want to receive calls through. If you previously made payments to the automated system or the website, your information will be stored and you will only need to verify that it is correct. Once you confirm your phone number, follow the prompts as follows:
Confirm the amount you want to deposit
Enter your credit card number and expiration date
Confirm your payment
The system will alert you once the payment goes through. You can also verify your GTL account balance during the same phone call by returning to the main menu.