Having to make a trip to a MetroPCS shop and wait in line just to pay your monthly bill is hardly anyone's definition of a fun afternoon. If you want to save both time and hassle, it might be a good idea to pay your bill directly on MetroPCS' website, either manually or automatically by using the AutoPay feature.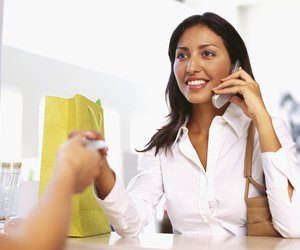 credit: George Doyle/Stockbyte/Getty Images
Sending a Payment Manually
A credit or debit card, along with an Internet connection, is all you need to pay your monthly bill manually on MetroPCS' website. Simply visit the "Make a Payment" page on the carrier's website, enter your phone number, proceed to the next page and enter your credit card details before finalizing the transaction. Alternatively, you can also create a free online account, which will offer you additional features such as the ability to send automatic payments to MetroPCS each month without having to do anything on your part.
Setting Up AutoPay
MetroPCS offers its customers a feature known as AutoPay, which lets you set up a default payment method and use it to automatically settle your bill each month. If you want to set up AutoPay, you can do so by visiting the "Manage and Pay" page on MetroPCS' website and either log in to your existing account or creating a new one. By selecting "eWallet/Saved Payment Method," you will then be able to add a credit or debit card to your account and to enable AutoPay.