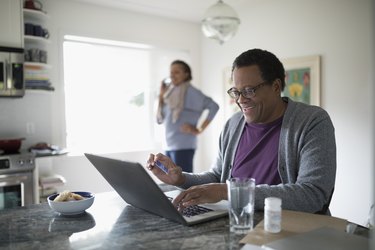 If you're using MetroPCS, now known as Metro by T-Mobile, you have a number of options to pay your phone bill. You can pay your bill online, send a check to MetroPCS, stop by a MetroPCS cellphone store or make a MetroPCS payment by phone. Contact MetroPCS if you're having trouble with your account.
Understanding MetroPCS Cellphone Service
MetroPCS, also known as Metro by T-Mobile, is a cellphone carrier owned by T-Mobile USA. It was previously an independent company, but was acquired by T-Mobile in 2013. Billing and plans are still largely handled independently from the namesake brand of the parent company. It uses the same calling network as T-Mobile, however.
MetroPCS focuses on prepaid wireless plans, where you pay in advance each month for the service you're about to use. In some cases, if you exceed the data or other services allowed in your calling plan, you may need to pay for more data in order to continue to access the internet or other features on your phone.
MetroPCS Bill Payment Online
You can use the "MetroPCS Pay My Bill Online" feature to make a payment online. Visit the MetroPCS login page and enter your phone number and account PIN to log in to your account. You may also be asked to confirm a code that will be sent to your phone to verify that you're the actual holder of your account and in possession of your phone.
If you've forgotten your account PIN, you can normally reset it using the security question and answer that you provided when setting up your account. If you need help, you can contact MetroPCS customer service.
Once you've signed in to your account, you can make a payment with a credit card or debit card that shows the Visa, MasterCard or American Express logo. You can also set up AutoPay once logged in to your account so your chosen card will automatically be charged every month when payment is due. It's a good idea to use this feature only if you're not concerned about exceeding spending limits on your credit card or incurring an overdraft on a debit card.
Once you make a payment, you'll receive a confirmation number which you should hold onto in case there's any issue with your payment. Note that you generally can't undo a payment once it's been made. You can pay multiple months in advance if you wish.
MetroPCS Payment by Phone
You can make a payment by phone using a credit or debit card if you prefer. To do so, dial "*99" from the phone in question.
If you want to make the payment from another phone, dial the toll-free number 888-8metro8. Have your credit or debit card, phone number and PIN handy.
Other Ways to Pay
You can also stop by a MetroPCS store to pay your bill in person or send a check or money order to MetroPCS. You may be able to have your bank automatically send a check to the company every month when your bill is due.
You can also use the myMetro app for iPhone or Android phones to pay your bill and manage your account.
Checking Your MetroPCS Balance
You'll usually receive a text from MetroPCS when your payment is due. If you don't pay on time, your account may be suspended, although you usually can restore service within 30 days by paying the bill.
You can also view your current balance and usage information by logging in to your account. If you don't want to access this information online, you can see your balance by texting the word "Balance" to your own phone number from your phone, by using the myMetro app on your smart phone or by dialing "*611" on your MetroPCS phone.