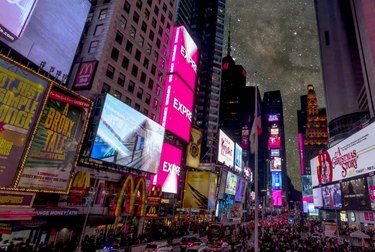 For people who live in large metropolitan areas like New York City, it's easy to forget that high above the city, there are billions of stars. Because far below in the concrete jungle, the lights of the city make it impossible to see the natural exquisite beauty of the night sky.
But a new video project created by photographer Harun Mehmedinovic and filmmaker Gavin Heffernan is making that possible—at least, virtually. Skyglow NYC is an experimental timelapse that imagines how the skies over NYC would look without light pollution. Something probably everyone living in NYC has, at one point or another, imagined.
The short film composites the heavily polluted Big Apple with the clear night skies of Grand Canyon and Death Valley International Dark-Sky Parks.
If only the video could become reality. Sigh.