When Snapchat launched in 2011, it was a niche novelty social network for savvy, meme-loving teens. Flash forward to 2018, and Snap Inc. is a company with a $3 billion IPO and a 158-million-user app that has transformed into an essential tool for branding, advertising and mainstream enterprise. Snapchat trophies, however, hark back to a simpler time. Similar to earning achievements on your Xbox or trophies on your PlayStation, these digital tchotchkes are all about having fun on the app while driving that all-important user engagement.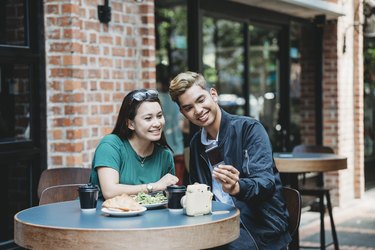 What Are Snapchat Trophies?
Trophies are a collection of special Snapchat emojis, but before you can use them in your Snaps, you must meet certain conditions to unlock them. They're digital achievements that reward you for using Snapchat in particular ways, and they game-ify your Snapchat usage.
To look at your trophy collection, tap the Profile icon in the top-left corner of the Snapchat app and then tap "Trophies." After you unlock a trophy, you can tap it to learn exactly how you earned it. That information's usually a secret, but plenty of Snapchat power users have spilled the beans on how to unlock Snap's full roster of rewards.
How to Get Snapchat Trophies
Collecting trophies on Snapchat may seem random, but that's certainly not the case. Each trophy requires specific parameters to unlock. If you want to start filling your trophy case, focus on using a wide array of filters (just using a certain filter can net you a trophy), using every feature the app has to offer, and sending the most creative Snaps you can imagine.
Improving your Snapchat score is also an effective way to score trophies. According to Snap Inc., "Your Snapchat score is determined by a super secret special equation that combines the number of Snaps you've sent and received, the stories you've posted, and a couple of other factors." You can peep at your score directly under your name on your Snapchat profile.
The Top Trophies for Beginners
Here's where it gets fun. Snap has cooked up all kinds of creative tasks for you to perform to unlock trophies, and some are easier to do than others. Let's start with some low-key trophy unlocks.
You can't get more basic than the email and telephone emoji trophies. Verify your email address and phone number in the settings, and they're yours.
To grab the retro-riffic videotape emoji, all you have to do is send a video. Send a video without audio, and your reward is an adorable hear-no-evil monkey emoji. Send 10 videos using zoom, and you acquire a microscope trophy.
If you're feeling naughty, grab a happy devil emoji just by taking a screenshot of a Snap. Screenshot 10 of them, and you get a sad devil face. You can get a useful pointing finger trophy by sending a Snap with a single filter applied or score a peace sign emoji by using two filters on a single Snap.
The Top Trophies: Pro Achievements
Here's where the Snapchat power users come in. The sun face and snowflake emojis might take a little traveling, as they require you to take Snaps with a temperature filter above 100 degrees Fahrenheit or below freezing, respectively. If you send 1,000 Snaps using your front-facing camera along the way, you get a spooky Japanese ogre emoji.
Just about anyone can get a baby emoji by reaching a Snapchat score of 10 or a gold star with a score of 100, but only the pros get the rocket ship trophy – it unlocks when your score hits 100,000. If that's not enough of a challenge, the coveted ghost emoji appears only for those with a Snapchat score of 500,000 or more – truly legendary and a little scary.
More to Know
Even when you have unlocked a certain trophy, the game isn't always over – some trophies have multiple levels of achievement. For example, you can unlock a speaker emoji by sharing 10 stories from Snapchat search. Share 50 stories, and you'll get a speaker emitting a soundwave. Share 500, and you'll get a full-blast speaker emitting a bunch of waves.
There are more than 50 trophies to unlock in total, and that number is subject to growth, so it's never too soon to start sending those Snaps. Once you've unlocked a trophy, you can use it in the same way you use any other emoji on Snapchat – except with way more jealousy from your friends.