Xbox One controllers use wireless technology so you can game without being tethered to the console, but you need to connect the controller to your console before you can play. Microsoft made the process for connecting the controller wirelessly easy, and you can have it set up and ready to go in less than five minutes. If you run into issues with your controller, such as the controller not switching on, problems connecting it to the console or other errors, most of these can be fixed easily too.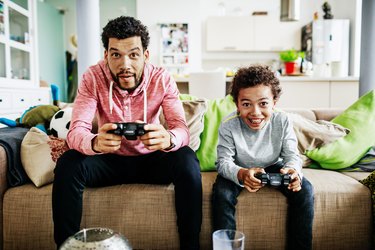 How to Connect Xbox One Controller to Your Console
Turn on your Xbox One and insert AA batteries or a rechargeable battery pack into your controller, if necessary. Press the large Xbox button in the middle of the controller and hold it down until the button starts to flash. When it lights up solidly without flashing, the controller is connected.
Alternatively, press the Xbox's "Connect" button. On the original Xbox One, look for this just around the corner from the disc tray on the left side of the console. The button is circular and has a radio wave symbol on it. On the Xbox One X and S, the "Connect" button is on the right side of the front of the console below the power button.
After pressing the "Connect" button on the XBox, within 20 seconds, press and hold the corresponding "Connect" button on your controller. Find it on the top edge of the controller, between the trigger buttons and beside the USB port. When the Xbox button flashes, you can release the "Connect" button and the controller searches for your console. When it stays lit, the process is complete.
You can also connect your controller physically using a USB cable.
Troubleshooting Xbox One Controller Problems
You may run into problems with your Xbox One controller, but most of them can be fixed relatively simply.
If your controller doesn't switch on, you probably need to replace its batteries or charge its battery pack. If you've attempted to charge your controller but it still doesn't work, your charging cable may be broken. You may need to buy a new one.
If your controller doesn't turn on when it's fully charged, you may have disconnected it while its firmware was updating. If you suspect this has happened, connect the controller to your console using a USB cable because the wireless will not function. Go to "Devices and Accessories" on your console and find the controller. If it is attempting to update, you'll see "Update Required." Click this and run the update to rectify the issue.
If you have connection problems or can't get your console to find your controller, then something may be preventing your controller from communicating with your console. The controller has a range of between 19 and 28 feet, so move to within this range if you're farther away. The range may be reduced if there are walls, cabinet doors or other barriers obstructing the signal. If your Xbox One is behind metal (inside a metal cabinet, for example), you are likely to have problems staying connected, and you should open any doors or relocate your Xbox if possible. Turn off other sources of wireless signals that might be interfering with the connection, such as laptops, microwaves and cordless phones if you're still having problems. Wireless headsets can also cause interference; you may have to switch yours off until the controller is connected.
If you have any other problem, power cycle the console. Hold the power button on the front of the Xbox One for 10 seconds to switch the console off. Wait a few minutes and then turn it back on. This gives your console the chance to reboot, and the process can fix minor issues that cause connection problems. Power cycling and then reconnecting your controller can fix many issues you may experience. For example, it can stop your analog sticks from drifting when you aren't pushing them.
Updating your controller's software can also solve connectivity issues or unusual behavior from your controller. Do this by going to "Devices and Accessories" from "Settings," selecting your controller and then choosing "Update."
Other Considerations: Connecting to a PC
You can connect your Xbox One controller to a PC. The simplest way to do this on Windows 10 is by connecting the controller via USB because your PC will recognize the controller automatically. You can use an Xbox Wireless Adapter for Windows to connect your controller if you prefer. Your PC may have this built in automatically, but it is more likely you need to purchase it separately. Go to "Settings" and then "Devices" on your PC. Click "Add Bluetooth or Other Device." Choose "Everything Else" and "Xbox Wireless Controller" before confirming by pressing "Done."
You can also connect via Bluetooth on Bluetooth-enabled Xbox One controllers. To connect this way, turn on Bluetooth on your PC and switch on the Xbox One controller by using the Xbox button. Press the "Connect" button on the Xbox One controller to start the connection process. Confirm it by clicking "Pair" when your PC detects the controller.