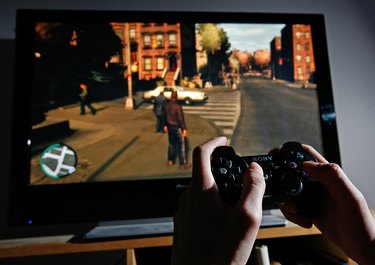 Designed to be both a gaming console and a home multimedia hub, the Sony PlayStation 3 (PS3) supports a wide variety of audio devices. Through the main system menu, users can connect wired and wireless sound systems, configure the console to use specific audio codecs, and more – giving you dozens of ways to customize your experience as you play games, watch Blu-Rays or DVDs and browse the internet or your favorite streaming services. Though there is no dedicated PS3 headphone jack, various options exist to connect headsets and headphones to the console wirelessly or through a wired connection.
Connecting Through PS3 Bluetooth Pairing
The easiest way to connect headphones or a headset to the PS3 is to take advantage of the console's wireless capabilities. If you use a pair of wireless headphones or a wireless headset, you can use the PS3 "Bluetooth Device" menu to pair it. From the general "Settings" tab in the PS3 home menu, navigate to "Accessory Settings" and then select "Manage Bluetooth Devices." Make sure your wireless headset or headphones are on and in pairing mode, then select "Yes" (if no Bluetooth devices have been connected to your console) or highlight "Register New Device" and press the "X" button. Press "X" again to start scanning for Bluetooth devices – then proceed through the menus to register and allow your PS3 to access your headphones or headset.
Connecting Wired Headsets and Headphones
If you wish to use a wired headset or a normal pair of wired headphones, the process will be more complicated. There is no PS3 3.5 mm jack for headphones, and unlike the Xbox 360 there is no port to plug a headset into the Sixaxis or DualShock 3 controllers. Despite this, wired headsets still work with the PS3. If your headset or headphones have a USB connector, or you possess an audio-to-USB adapter, you can simply plug the headset into either of the USB ports at the front of the PS3 (located just under the disc drive). If you lack an adapter, you will need to use the composite cables included with your PS3 along with an audio splitter/headphone jack adapter. Leaving the HDMI cable inserted into your television or monitor (do not connect the yellow video cable), insert the composite cable into the PS3. Next, connect the red and white audio cables to the adapter, then plug your headphones into the black end of the adapter.
Configuring Audio Settings
Regardless of the method you use to connect your headphones, before you can use them effectively you'll need to configure your PS3's audio settings. If you connected a wireless audio device or connected your headphones or headset via USB, navigate to the "Settings" menu, followed by "Accessory Settings" and then "Audio Device Settings." From this menu, you can highlight "Input Device" and press "X" to select your headset or headphones (if they have an included microphone) from the list of devices. The "Output Device" option will change to match your chosen input. If you've connected wired headphones through a composite cable, you will need to adjust the PS3's audio output settings. From the main "Settings" menu, navigate to "Sound Settings" and then "Audio Output Settings." Change the audio input connector from "HDMI" to "AV MULTI OUT" and confirm your settings. Audio should now route to your headphones.