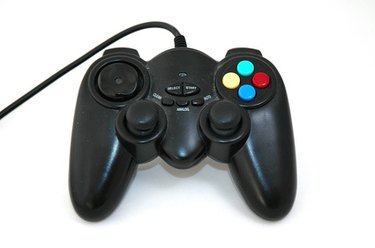 Logitech is a hardware company that produces various controller interfaces for Windows-based computers. They manufacture everything from standard keyboards and mouse devices to video game pads and joysticks. If you have a Logitech controller and wish to use it on a PC video game, all you need to do is properly configure it in the game. Actual drivers are not usually required to connect current Logitech controllers to your computer (some Logitech controllers produced in the past may require a driver).
Step 1
Connect the Logitech controller to the computer. Insert the USB cable running from the rear of the controller into one of the USB ports on the computer system.
Step 2
Launch the PC video game you want to use the controller with. Wait for the game to load, then choose "Options."
Step 3
Click "Controllers" and a list of controller options appears on the screen. Select the appropriate controller. This loads a new selection of controller options.
Step 4
Scroll through the list of controller options until you find a configuration that is suitable to you (each configuration changes what each controller button's actions are).
Step 5
Accept the controller changes, then return to the main menu of the video game and start your new or currently saved game.
Installing Driver (for older Logitech devices)
Step 1
Insert the driver installation CD into the disc drive of the computer after connecting the Logitech controller to a USB port. In a moment the driver installation wizard loads onto the screen.
Step 2
Click "Next" on the welcome page, then accept the end-user license agreement displayed.
Step 3
Click "Next" two more times, then select "Install" and the Logitech controller drivers will be installed onto the computer. Now launch the video game and continue with the "Options" menu as you do in step 2 of the previous section.