The Bose PS28 is a powered subwoofer designed to operate with the Bose Lifestyle and Acoustimas modular stereo systems. The subwoofer is equipped with multiple terminals on the rear control panel for hooking up speakers, with a master input for receiving a signal from the main Lifestyle or Acoustimas unit. Each cable needed to complete the connection is supplied with Bose speaker systems, while the PS28 comes with a proprietary audio cable for hooking up to the control module on a Bose system.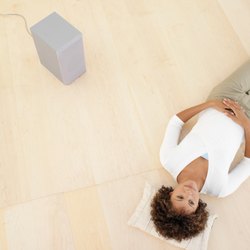 Step
Unplug the PS28 power cord from the wall receptacle.
Step
Hook up additional Bose speakers to the PS28 using the labeled jacks on the rear of the PS28. From left to right, the jacks are labeled "R," "RR," "C," "L" and "LR," which correspond to the right front, right rear, center, left front and left rear speakers. Each speaker comes with its own cable.
Step
Connect the PS28 to a Bose Acoustimas or Lifestyle receiver using the supplied audio cable with plug connectors on each end.
Step
Reconnect the PS28 power cord to a wall receptacle.