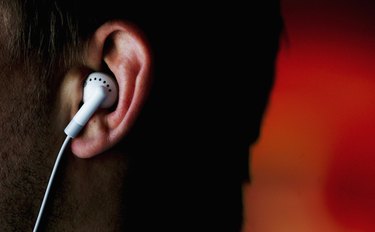 Apple's line of headphones and headsets are designed for use with the macOS and iOS ecosystem of computers and mobile devices. The listening devices are built to pair and integrate with iMacs, MacBooks, iPhones and iPads with as little effort on the user's behalf as possible. Consumer demand and standardized design led to Apple's listening devices becoming compatible with Android phones and tablets and Windows and Linux computers. However, Apple's wired headphones, headsets, EarPods and wireless AirPods aren't designed to work seamlessly with these out-of-ecosystem devices, which can lead to situations where PC users find their listening devices behaving strangely or not working at all. If you're attempting to use Apple headphones and your computer is not recognizing the headphones, you may need to adjust your computer's audio settings to get them to work properly.
Connecting Wired Apple Headphones
Apple's wired headphones, whether they have an attached microphone or volume control buttons, use a standard 3.5 mm headphone jack or a lightning port. While they usually work immediately upon being plugged into any computer through either a headphone jack or an audio-to-Lightning adapter, Windows and Linux PCs may have trouble detecting them. If this is the case, unplug the headphones, clean them with a lint-free cloth, and then plug them back into the headphone port. If this does not work, determine if your computer has dedicated headphone and microphone jacks. If it does, you may need to get an audio splitter to plug your headphones to both jacks. Your headphones should then work – though they may need to be configured.
Connecting AirPods to PC
While Apple's wireless headsets and AirPods may be more difficult to connect to a PC than to a product in the Mac ecosystem, the lack of a wired connection tends to minimize problems after connection. You can connect these wireless devices to your computer via Bluetooth. To do this, open your computer's Control Panel or Settings menu, then go to "Devices." Select "Bluetooth and other devices" and click "Add Bluetooth or other device." Follow the instructions to add a device and then select "Bluetooth" from the options. Place the AirPods or another wireless headset into pairing mode and select them when they appear in the Bluetooth device menu. Your device should work with your computer from that point forward, although the appropriate drivers may need to be installed, and the device may need to be configured further.
Configuring Headphone Settings
Once you've plugged in or paired your headphones or headset with your computer, you may find that the attached microphone isn't working – or worse, that audio isn't being fed through the headphones. If your computer does not recognize the headphones or headset, you can often reconfigure your audio settings to solve the problem. Right-click the audio icon in your taskbar and select "Open Sound settings" to enter the sound settings menu. From this menu, locate the drop-boxes under "Choose your output device" and "Choose your input device." If your computer is still defaulting to the built-in speaker and microphone, use the drop-boxes to select your desired headphones or headset in each category. From the same menu, you can select "Device properties" under both the input and output device menus to further adjust the headset or headphone settings. Wired headphones with attached microphones may need to have their gain adjusted to prevent static noise on PCs.