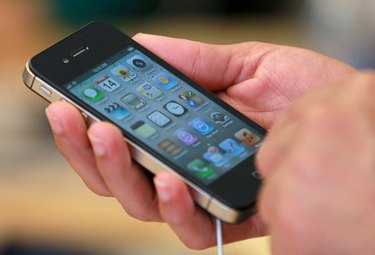 The iPhone headset includes both headphones and a microphone for hands-free phone calls and for listening to music and other audio files. If you enjoy using your iPhone headset and dread the thought of having to purchase an additional headset for video chatting, Skype calls or simply listening to audio on your computer, you'll be pleased to know that you can use the headset on your computer. Depending on what you're using it for, however, you may need to purchase an adapter.
Headphones
The headset that comes standard with all iPhones is compatible with the headphone jack in your computer. Plug the headset into the headphone jack on your computer when you want to listen to music or watch videos and the sound will automatically come through the iPhone headset instead of through your computer's speakers. Generally speaking, you'll find the headphone jack on either the front or the sides of your laptop computer. On a desktop, the jack is usually located on the speakers.
Microphone
It is possible to use your iPhone headset for video conferencing or Skype calls, though you will need to purchase a smartphone to PC adapter. These adapters split your headset's single, 3.5mm plug into a dual 3.5mm plug with microphone and headphone outputs. The outputs of the adapter plug into the microphone and the headphone jacks on your computer. These jacks are frequently located right beside each other.
Significance
The ability to use your iPhone headset as both a microphone and headphones for your PC saves you from having to purchase a dedicated headset for your computer. These headsets can get expensive, especially if you're looking at the highest-quality models.
Considerations
Although you will probably be able to use your iPhone headset for most applications on your computer, how well it works will depend on the program you're using -- particularly in terms of video conferencing, Skype and similar applications. When using the headset for the first time, check with other individuals on the call to make sure they can hear you clearly. If you experience persistent problems with call quality, you may want to consider purchasing a separate headset for your computer.