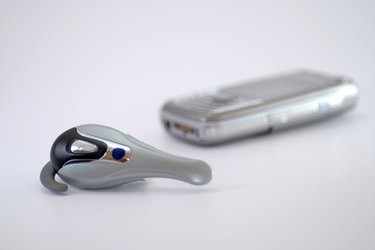 Plantronics offers many types of Bluetooth headsets for use with your Bluetooth enabled computer, PDA or phone. The two devices must be paired before they work together. If you experience connectivity or poor reception issues or if your phone doesn't recognize your device, you may be able to resolve the situation by resetting your headset.
Things You'll Need
Step 1
Turn on the headset by pressing the "Power/Answer" call button. The blue light flashes to let you know that the headset is on.
Step 2
Hold down the "Power" button and the "Lower Volume" button (minus button) together until the light goes out.
Step 3
Wait for one minute for the reset to be complete.
Step 4
Turn on the headset again by pressing the "Power" button.
Tips & Warnings
Reset other Plantronics Bluetooth headsets like the Backbeat Model by plugging it into the AC adapter and then holding the "Power" button down until you see a solid blue or red light.