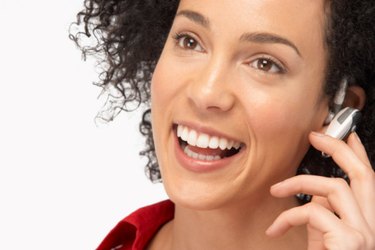 Using your Jabra Bluetooth headset can make your life much easier. Connecting it to your phone for the first time is extremely easy. The very first time you turn the headset on, it will be ready to pair to your phone. Setting it into pairing mode for a new device, though not as simple the first time, is still a straightforward procedure.
Pairing
Step 1
Charge your OTE3 headset until fully charged. It normally takes two hours for your headset to charge from no life. Once it has completed charging, unplug it. The headset will not function while it is plugged in.
Step 2
Access your connection settings on your phone, and look for the Bluetooth option. From this menu, turn the Bluetooth connectivity on.
Step 3
While the headset is still off, press and hold down the answer call button for approximately five seconds. You should see the LED light change from flashing, to a solid color. This signifies that it is in pairing mode.
Step 4
Select the "Scan For Devices" option on your phone to begin searching for the headset. The name of your headset should show up under the results screen.
Step 5
Select the Jabra Bluetooth headset from the results, and follow the prompts on the phone to connect. If a PIN code is required, type "0000" into the field. Once done, your headset is paired and ready to use.