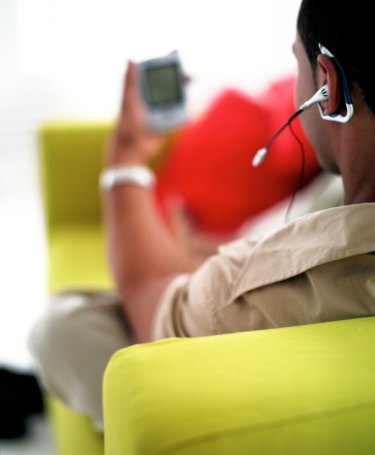 The Motorola N136 headset, which has been updated as the nearly identical HS850, gives cell and smartphone users wireless hands-free usage with Bluetooth technology. The loop on the earpiece slips over the ear to allow you to have clear phone conversations. Before purchasing a Bluetooth headset, make sure that your phone has Bluetooth capability and that it's compatible with the Motorola N136/HS850. Pairing a Motorola N136 with your cell phone should take just a couple of minutes once the unit is charged.
Step 1
Insert the tip of the included charger into the headset so that the release button faces the same direction as the speaker. Plug in and charge fully before pairing with your phone.
Step 2
Turn on your phone's Bluetooth, if necessary. For a Motorola phone, go to "Settings" and select the "Connections" option. Click on "Setup," and select "Power" to turn on your Bluetooth.
Step 3
Unplug the headset from the charger. Do not turn on.
Step 4
Press the silver multifunction in the center of the headset until the blue light comes on and shines steadily.
Step 5
Unfold the headset's microphone so that the unit is open.
Step 6
Search for the headset on your phone by going into "Settings" and selecting "Connections."
Step 7
Select Bluetooth, then click on "Handsfree." When the headset is found, you will be asked if you want to connect it to the phone; select "Yes."
Step 8
Type in "0000" when prompted to enter a passkey. The light will start to flash, indicating a successful connection.
Step 9
Test the connection by making a call on the phone. If you hear the phone ring or go to voicemal in the earpiece, the headset is paired correctly.