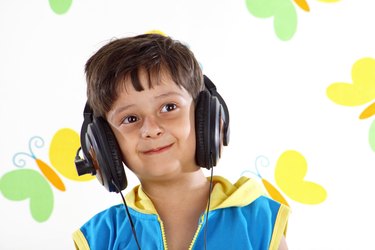 Listening to music while you work may increase your productivity by helping you to tune out the background noise of your office. Wearing a headset at your desk also sends a "do not disturb" message to coworkers, reducing interruptions when you need to focus on an important project. It's possible to use the Bluetooth connection in your computer to stream music or audio from a video to a Bluetooth stereo headset that supports Advanced Audio Distribution Profile (A2DP).
Step 1
Place your Bluetooth headset in pairing mode. The procedure for doing this varies from one headset to another, so check your user manual for specifics.
Step 2
Right-click on the Bluetooth logo at the bottom right of your computer screen and select "Add a device."
Step 3
Double-click on your headset's device name in the search results and complete the pairing procedure. This may require inputting the PIN code for your headset. Obtain this information from the headset's user manual.
Step 4
Open Windows Media Player and right-click on the "Speaker" icon, next to the volume control.
Step 5
Select "More Options," and then click on the "Devices" tab.
Step 6
Click "Speakers" followed by "Properties."
Step 7
Select "Speakers (Bluetooth Hands-free Audio)" in the drop-down menu. Click "OK," and click "OK" again in the Options screen.
Step 8
Open the music file that you want to play. The audio should be directed to your headset. If this is not the case, you may need to close and then reopen Windows Media Player for your new settings to take effect.