With a Bluetooth-enabled Windows computer and a Bluetooth-enabled device, you will be able to play music from your external device on your PC. With Windows, you can access files that are stored on a Bluetooth device and play those files. In this way you are using your PC as a Bluetooth speaker. This is useful if you have a mobile phone that has built-in Bluetooth and it stores MP3s on it. While you may be able to play your MP3s on your phone, your computer and it's speakers will often be far louder.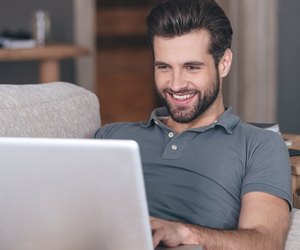 credit: g-stockstudio/iStock/Getty Images
Step
Click "Start," then "Control Panel."
Step
Click "Add a device" beneath "Hardware and Sound."
Step
Switch your device's Bluetooth to "Discoverable."
Step
Click "Next" on your computer and select your Bluetooth device when it appears on screen. Click "Next." Follow the instructions to pair your two devices together. Click "Next." A window will open allowing you to browse your Bluetooth device.
Step
Locate the songs you want to play. Double-click a song and it will play through your PC instead of the device.