Your Beats by Dre headphones are equipped with a multifunction button designed to switch them into pairing mode. Once the headphones are in pairing mode, you can connect them wirelessly to your Windows 8 PC using Bluetooth technology. You can also connect them to most Bluetooth-enabled mobile devices.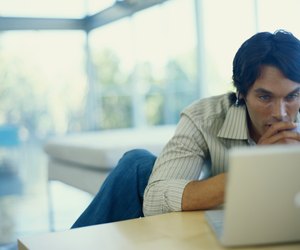 credit: Stockbyte/Stockbyte/Getty Images
Step
Turn on your Beats headphones and then turn them off again. This step is only necessary if the headphones have never before been connected to a Bluetooth device.
Step
Press and hold down the "Multifunction" button on the headphones for 5 seconds or until the light on the right side of the headphones begins to flash. The Multifunction button is located above the "B" button on the headphones.
Step
Enable Bluetooth on your Windows 8 computer. Press "Windows-C" on your keyboard and click "Settings." Select "Change PC Settings," choose "PC and Devices" and then select "Bluetooth." Toggle the "Bluetooth" switch to the On position to enable Bluetooth on your PC.
Step
Select your Beats headphones on the list of available Bluetooth devices and then click "Pair."
Step
Enter "0000" as the pairing code to finish connecting your Beats headphones to your computer via Bluetooth. You only need to enter "0000" if you are prompted by your computer to enter a pairing code. Not all Beats headphones require a pairing code.