Pair your BlueParrott B250-XT headset with your mobile phone and begin using Bluetooth technology to transmit wirelessly between the two devices. After you've paired the BlueParrott B250-XT with your phone, you can begin using the headset's onboard controls to manage calls on your phone.
Connect the B250-XT to Your Phone
Step 1
Press and hold down the multifunction button on the BlueParrott B250-XT for two to three seconds to turn the headset off. The multifunction button is the largest of the three buttons on the headset.
Step 2
Hold down the multifunction button again until the indicator lights alternate blue and red or you hear the words "power on" and then "discovering." Release the multifunction button only after you see these alternating lights or hear these audio prompts in the headset.
Step 3
Enable Bluetooth functionality on your phone. This process is essentially the same whether you're using a device running Android 5, iOS 7 or Windows Phone 8.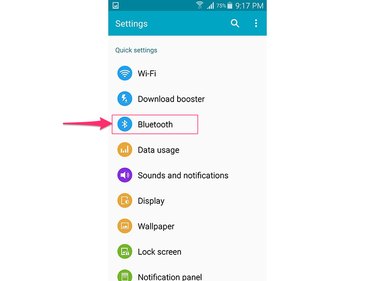 In all three cases, open the Settings app on the phone and then touch Bluetooth to open the Bluetooth settings screen.
Toggle the Bluetooth switch to the On position to enable Bluetooth functionality.
Step 4
Wait for your phone to discover the B250-XT. Depending on your device, this process can take up to two minutes.
When the phone discovers the B250-XT, it includes it on a list of available device within range.
Step 5
Select the B250-XT on the list of available devices and touch Pair and then Yes, if prompted. If you are asked to input a pairing code, enter 0000.
When the phone and headset are successfully paired, you'll hear the audio prompt "the headset is now connected" through the B250-XT and the headset indicator light begins flashing blue. On your phone, the B250-XT appears on a list of paired devices.
Troubleshooting
If you're experiencing audio dropouts or other connectivity problems between the B250-XT and your phone, perform a few basic troubleshooting procedures to diagnose and fix the problem:
Make sure the B250-XT is fully charged. A low or dead battery in the device prevents it from working properly.
If the B250-XT doesn't appear on the list of available devices on your phone, toggle Bluetooth functionality off and then on again in your phone's Settings app. Restart the phone if the problem persists.
Every Bluetooth device has a maximum range of about 30 feet. Attempting to connect the B250-XT to your phone outside of this range will result in drop-outs. Move the devices closer together if you are near the limit of this range.
Bluetooth signal quality is also affected by environmental interference. If possible, keep away from objects such as concrete walls, microwaves, cordless phones and other devices that transmit wirelessly.