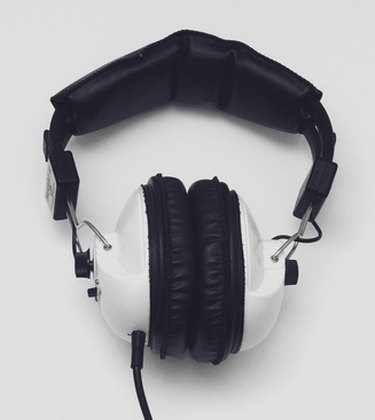 Wearing headphones while using a computer may be highly useful in libraries and computer labs. Furthermore, headphones can provide users with a surround sound experience that may be preferred when watching movies or playing PC games. Using headphones while on the computer helps block background noise, in addition to providing great sound quality and showing courtesy to others in the room.
Step 1
Locate the headphone icon on the body of the computer. It looks like a miniature set of headphones. If you have a laptop, the headphone icon may appear on the side or front panel. Near the headphone icon, you'll notice a small, round opening, where headphones can be plugged into the computer. Some desktop computers may enclose the headphone jack behind a small door, located on the front of the computer. Gently lift the door to expose the computer's headphone jack.
Step 2
Plug headphones into the jack. This will cause any sounds on your computer to be heard through the headphones, as opposed to internal or external speakers.
Step 3
Adjust the computer's volume to desired levels. To accomplish this goal, click the mouse on the computer's sound icon, typically located in the toolbar at the bottom of the screen. Depending on the computer model, there may be an external volume control located on the front of the computer. This functionality appears frequently on laptops.
Step 4
Play music, songs and games on your computer. Certain headphones have their own external bass and volume controls. Adjust the sound and bass on your headphones to optimum levels.