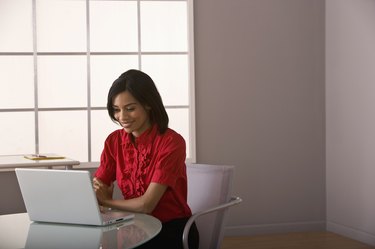 Acer laptops are typically sold with pre-installed Windows operating systems that offer sound-adjustment features for increasing the volume on the laptop's built-in stereo speakers. These same functions can also be used in tandem with external speakers or headphones to increase the volume, as well as mute all sound on the laptop. If the computer should output an unusually low volume, fixing the problem may be no more involved than sliding a control switch with the computer mouse.
Step 1
Click once on the speaker icon in the taskbar on the lower-right corner to open a rectangular window with a slide control.
Step 2
Click and hold the left mouse button on the slide control to drag it upward, increasing the volume to the laptop's maximum setting.
Step 3
Click the "Mixer" button below the slider control to open another window with volume controls for "Speakers" and "Applications," adjusting each slide control upward to increase the volume. Be sure the speaker icon below each control is not accidentally muted. Click once on each speaker icon to remove the red circle with a slash through it, which will restore audio.
Step 4
Click the Microsoft flag or "Start" button in the lower-left corner if the shortcut speaker icon is missing from the taskbar. Click "Control Panel" to select "Adjust Sounds" from the Hardware and Sounds category. The controls described in Step 3 will open in a new window for adjustment.