Traveling with multiple devices like a smartphone, tablet, laptop, headphones, or an Apple Watch keeps you connected at all times. Staying connected, especially when you're on the go, is a necessity for many of us. But with all those devices comes cords—lots and lots of cords.
Unless you have some sort cable organizing case, you probably spend more time worrying about keeping your cords tangle-free than you do actually using them. Well, it doesn't have to be that way. That cable life doesn't have to be so hard.
Twelve South, a company that designs cool and useful Apple accessories, created CableSnaps to help organize your cords. The company makes products exclusively for Apple, but these can be used universally.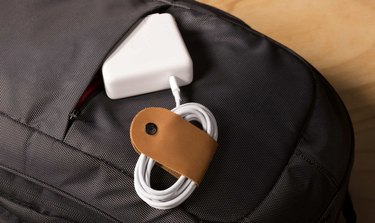 The leather wraps are sold in three sizes and come in three colors: black, cognac and marsala. They incorporate a cord loop, so your cords actually stay attached.

Not only are CableSnaps helpful in keeping you organized and sane, but they extend the life of your cables, which ultimately saves you time and money. And saved money means more money to spend on new devices.
Get the bundle of three wraps here for $20.