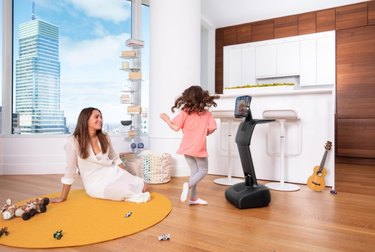 Temi is a brand new personal robot that's giving Alexa a run for her money. It's a self-learning machine that familiarizes itself with its users likes and preferences so it can offer customized content and personalized services. It's basically a tablet on wheels, and it's a relatively affordable way to make your home even smarter.
Standing 3 ft tall, with a 10-inch tablet for a head, and a curved body that looks almost like an elliptical or an industrial strength vacuum, Temi has a serious Rosie the Robot from The Jetsons vibe.
The self-learning machine uses facial recognition to identify and track you, and it can distinguish between different voices. A system of 16 different sensors and cameras allow it to navigate wherever you want it to go indoors.
Ask Temi to make hands free video calls, take pictures and videos, order food, bring you things, play music, turn on lights, and autonomously navigate your home. If only it could clean the house and make dinner.
Buy Temi here for $1,500—might seem expensive, but it's around the price of a Macbook Pro. So, for a legit robot, it's not so bad.