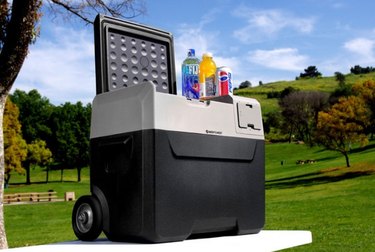 Everyone loves a cooler full of drinks, but no one loves getting ice to fill the cooler. Going to the store for ice is annoying, it costs money, and then you're left with a cooler full of cold water to dump.
LiONCooler is the "world's smartest portable solar freezer," and it's currently being funded in a Kickstarter campaign. The cooler requires no ice, which makes it the best cooler of all time.
The cooler temperature is controlled by an app and keeps food and beverages icy cold without the ice. It's basically a portable refrigerator that can also work as a freezer—chilling to as low as -4°F. Its rechargeable batter takes four to six hours to full charge, and it lasts for up to 10 hours.
Plus, it features a handle and large wheels, making it super easy to pull through most terrains.
Check out the Kickstarter here. Pledge $539 to receive a LiONCooler sometime in June.