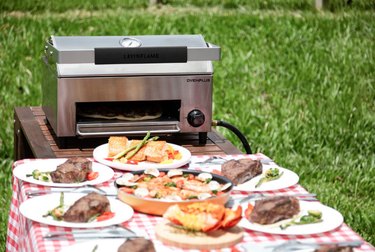 Summer is almost over, but that doesn't mean your barbecues need to end. In fact, there's a new product currently being crowdfunded on Indiegogo that'll majorly step up your barbecue game in the best way. Because pizza.
LovinFlame's new OvenPlus: All in-One Kitchen on the Go is the portable kitchen you need in your life. It's the perfect combination of a pizza oven, smokeless grill, and an oven. So, you can make your own pizza while simultaneously grilling burgers and veggies for the people who don't like pizza. (Do those people exist? Not sure.)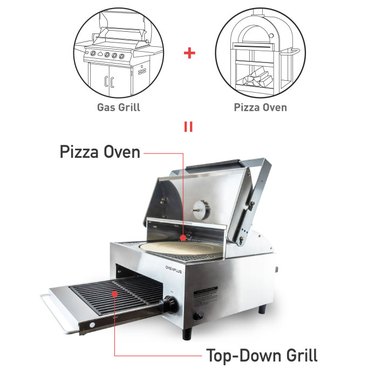 A big perk to this grill is its size. It's compact and portable, allowing you to take it tailgating, camping, to a cookout, or just leave it at home where it won't take up nearly as much space as the standard outdoor grill.
Another perk? You can cook enough food for eight people in 15 minutes. Yes, please.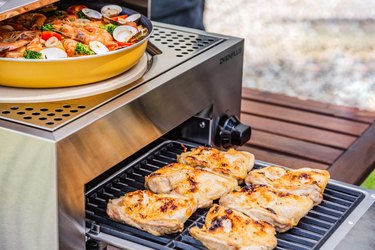 Key features
Grill + stove + pizza oven: When grilling steak with the top-down grill, you can make anything from pizza to risotto with the upper ceramic tray.

Fast pizza baking: two minutes on the upper tray to bake the crust, and two minutes on the grill to melt the cheese, and you'll have a professional-quality pizza ready to serve in 4 minutes.

Lock-in moisture: the heat source above the grate locks in moisture in meat so every cut comes out juicy and tender.
Efficient, even heat distribution: the Butterfly burner heats to 500°F in 10 minutes and covers both the upper and lower cooking area, providing a steady and evenly-distributed heating source.
Grill safer: the top-down grill design avoids grease dripping on the heat source and significantly reduces the risks of flareups.
Easy cleaning: coming with the nonstick cast iron grate and the fat collection tray, OvenPlus is easy to clean.
Here's how it works
Check out the Indiegogo campaign. You have until September 30th to back the project starting at $189, with a 44 percent savings.