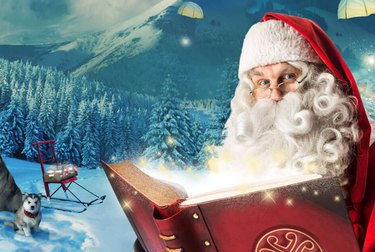 Christmas is a magical time, especially for kids who believe in Santa. The Portable North Pole app is dedicated to making sure kids keep believing by experiencing all the magic of Santa and the spirit of Christmas in a personalized way.
Through the app (or the website), you can put together a free, customized video or phone call from Santa to your kids. And it's so well done, it can turn a non-believer into a believer—or at least into a maybe-believer.
Thanks to a little guidance from you, Santa will know your child's name, what grade she's in, what she wants for Christmas, and whether she's been naughty or nice. You can also make a more grown up/humorous version of the video for adults.
The videos are free, or for a premium upgrade of $10.99, you can get unlimited full-length videos for as many kids as you want. The app will also record your child's reaction to Santa's call. There's also a $14.99 upgrade option, where you can create a family video, plus Santa will call your child during the video. And the $44.99 upgrade option gives you access to everything for 10 years. PNP will donate 5 percent of the proceeds to a children's hospital near you.
Create your free Santa video message here and watch your kids lose their minds with excitement.