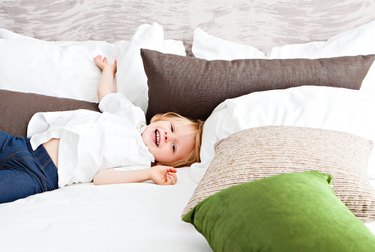 There's something magical about curling up in bed and immersing yourself in a good audiobook. If audiobooks are part of your kids' bedtime routine, or if you want to try them out, you should check out Hoopla.
Hoopla Digital lets you borrow digital eBooks, audiobooks, movies, music, comics, and TV episodes from your local public library—and they're all free. You just need a library card.
You can choose from over 800,000 selections, but if your local library doesn't have what you're looking for, or if it doesn't participate with Hoopla, you can get a card from another library nearby that does.
There are no late fees and titles are available instantly to stream or download for offline reading, watching, and listening. Plus, anything you borrow can sync across all your devices. So, if your kid is listening to an audiobook on a tablet, it can be picked up on a phone or any other device so the place isn't lost.
Hoopla is especially perfect for bedtime, because it has a built-in sleep timer that can be set to turn off after a certain amount of time. There's also a Kid Mode filter that protects your kids from adult content and doesn't let them access your library.